Area Codes in Washington
When starting a business, why do you need a Washington area number?
By establishing a local phone number, you may establish a presence in your city.

Instant setup

No Contracts

Cancel Anytime
About Washington
Washington , officially the State of Washington, is a state in the Pacific Northwest region of the Western United States. Named for George Washington—the first U.S. president—the state was formed from the western part of the Washington Territory, which was ceded by the British Empire in 1846, in accordance with the Oregon Treaty in the settlement of the Oregon boundary dispute. The state—which is bordered on the west by the Pacific Ocean, Oregon to the south, Idaho to the east, and the Canadian province of British Columbia to the north—was admitted to the Union as the 42nd state in 1889. Olympia is the state capital; the state's largest city is Seattle. Washington is often referred to as Washington state to distinguish it from the nation's capital, Washington, D.C.
Area codes in Washington
Washington currently utilizes 6 area codes. When first established by AT&T and the Bell System in 1947, 206 covered the entire state of Washington. The most recently added was 564 in 2017 as an overlay to 360. Today, 360 is the most populated with an estimated 3.6 million of the state's 6.7 million residents.
How many area codes are there in Washington?
The largest cities in Washington
Seattle, Spokane, Tacoma, Vancouver, Bellevue, Kent, Everett, Renton, Spokane Valley, Federal Way
What is the value of having a local phone number for your company?
Take a look at some of the key benefits of having a local phone number:
1.Local presence: By picking a local number you'll be able to give the impression that you're an established business in any UA and CA city.
2.Routing calls: All calls made to your new local phone number can be forwarded automatically to your pre-existing business number or mobile.
3.Choose your own number: Traditional phone service providers will allocate you a random number. With VoIP, you get to pick your own number – meaning you can 4.Pick from thousands of memorable numbers, making it easier for customers to remember you.
5.Marketing: You may be running a marketing campaign in a particular city that entails people to call a phone number.
Considering getting yourself a virtual phone number?
How can I get a Washington phone number?
Local numbers are more likely to receive responses from prospects and consumers. As for price, local numbers are a lot more affordable than you'd expect. EasyLine is suitable for any sort of business. We offer affordable business phone plans that grow with your company. EasyLine is a good choice for healthcare, real estate, e-commence, financial services, retail and franchise, professional services, etc. No matter what industry you are in, EasyLine provides powerful features and solutions to meet your needs.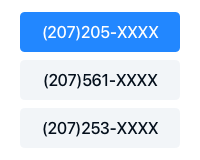 Pick a Number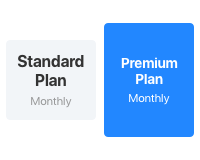 Choose a Plan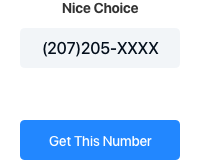 Get Started
Get a local Washington number for your business
On average, our clients save thousands by switching to EasyLine.
Complete List of US and Canada Area Codes
You can look up area codes by US states and Canadian provinces. Click the specific area code link to view the details.
United States Area Code List