Area Codes in Maine
Use Maine area codes to contact your local consumers.
Get a local phone number for your house or company that is permanent.

Instant setup

No Contracts

Cancel Anytime
About Maine
Maine is a state in the New England region of the United States, bordered by New Hampshire to the west; the Gulf of Maine to the southeast; and the Canadian provinces of New Brunswick and Quebec to the northeast and northwest, respectively. Maine is the 12th-smallest by area, the 9th-least populous, the 13th-least densely populated, and the most ruralof the 50 U.S. states. It is also the northeasternmost among the contiguous United States, the northernmost state east of the Great Lakes, the only state whose name consists of a single syllable, and the only state to border only one other US state. The most populous city in Maine is Portland, while its capital is Augusta.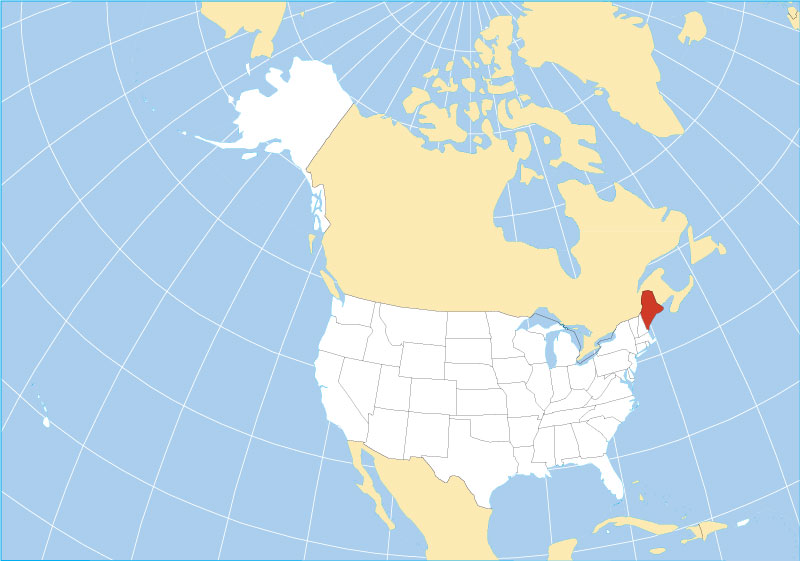 Area codes in Maine
Maine currently utilizes 1 area code. 207 has covered the entire state since the modern phone system was established by AT&T and the Bell System in 1947.
How many area codes are there in Maine?
There is a total of 1 area code in Maine - 207.
The largest cities in Maine
Portland, Lewiston, Bangor, South Portland, Auburn, Biddeford, Sanford, Brunswick, Scarborough, Saco
The importance of choosing a vanity local umber for your brand
1. According to studies, consumers are more likely to call a business with a local phone number because they feel a local firm is more likely to provide personalised service. For example, a real estate agent with a local area code may be more enticing to potential customers since their company number displays an understanding of local nuances. To emphasise that your firm is a local one that prospects and customers can trust, use a local phone number.
2. Compete with large corporations: Using a local phone number may give you a substantial edge over non-local or national competitors if the service your company provides benefits from seeming to be a local enterprise.
3. Save money as your company grows: It can be expensive to open physical stores in all of the regions where you want to do business. EasyLine allows you to acquire several local lines without the cost or hassle of setting up additional office locations. Your business may be national, yet it has a local flavour.
How to get specific phone numbers with Maine area codes?
For consumers in various locations, EasyLine offers a range of phone numbers.
You can get a specific phone number by requesting it from EasyLine. EasyLine is a delightful and powerful business phone for professionals, freelancers, and companies. Whether it's for privacy, productivity, collaboration, or just a separate number, EasyLine streamlines your communication so you can focus on what you love. EasyLine gives you a 2nd number with all the communication tools you need to start, work, grow, and pursue your passion. You can get a local business phone number from EasyLine in following steps:
Step 1. Search a local number in any city and area code in North America. Enter your preferred 3-digit area code, e.g. 201
Step 2. Select a Local Number You Like from recommended results.
Step 3. If you haven't logged in your account, you have to sign in, then continue the next operation.
Step 4. Choose your plan. No hidden fees. No long term contracts. No surprises.
Step 5. Subscribe. Your subscription is auto-renewing until you cancel, you may cancel it anytime.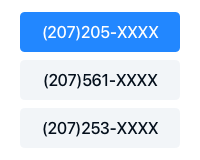 Pick a Number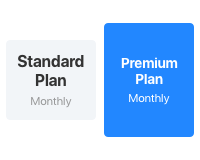 Choose a Plan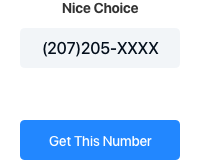 Get Started
Get a local Maine number for your business
With a local phone number from EasyLine, you can build trust and loyalty.
Complete List of US and Canada Area Codes
You can look up area codes by US states and Canadian provinces. Click the specific area code link to view the details.
United States Area Code List