MAKE YOUR BRAND STAND OUT IN THE CROWD
Get a Memorable & Professional Business
Phone Number
Simply a memorable number is a phone number that people will find easy to remember either due to the format or the marketing that accompanies it. The ultimate goal for businesses using these numbers is to generate more calls and to develop their brand. A memorable number is a powerful marketing tool, widely used in all forms of advertising.
Manage customer calls efficiently with a professional-looking business phone number. EasyLine provides three types of business phone numbers to meet your needs. You can set up phone numbers for your company or business within minutes irrespective of the size of your organization.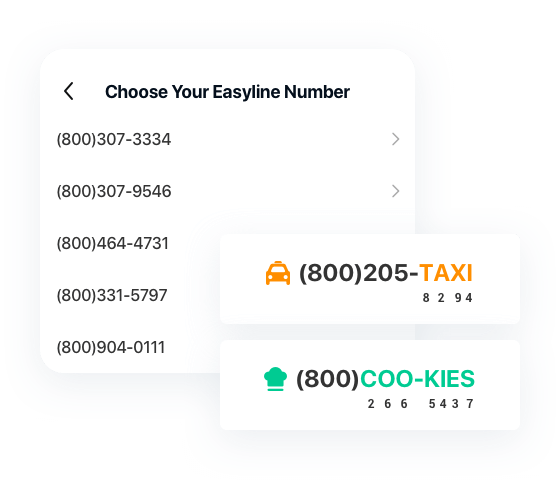 Get a Memorable Vanity
Number for Your Brand
A vanity number is a phone number that spells out a memorable word or
name. It's easy to remember.
Some examples are: 1-800-COOKIES, 1-800-TAXICAB or 1-800-GETFOOD.
Key benefits:
Your number stands out. It's easy to remember.
Make your company look bigger and more established.
Portability and flexibility: Take your calls anywhere.
Improves brand loyalty & recognition. More word-of-mouth referrals.
Make your business cards, website and brand more recognizable.
Pick a Professional Toll-free
Number for Your Company
Toll-free numbers are essentially numbers that do not charge the person
making the call – known as 'toll free calls'. Toll-free numbers start with a
toll-free prefix—800, 888, 877, 866, 855, 844, or 833.
Key benefits:
Convey a national presence, advertise to a wider audience.
Make your company appear more professional and established.
Enhance visibility with vanity numbers, such as 1-800-FLOWERS.
Toll free numbers are a lot more affordable than you'd expect.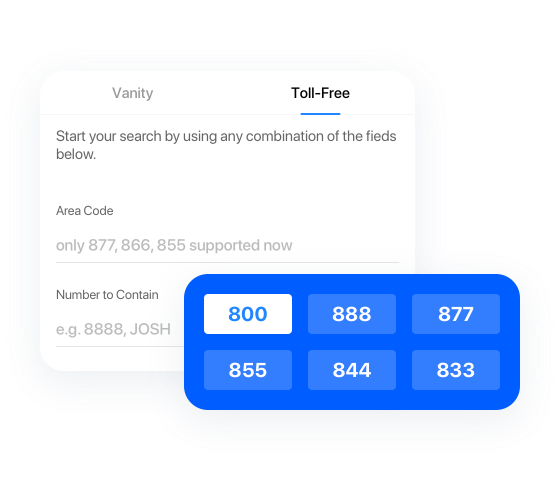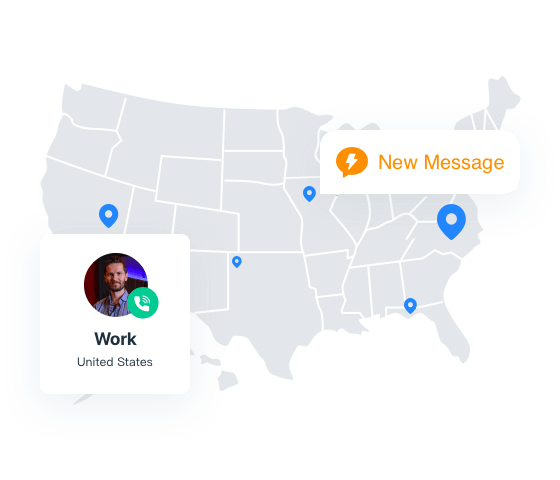 Start a Business by Using a
Local Number
A local number allows you to create a phone number for a particular region,
city, or state. EasyLine provides you with the option to select multiple local
numbers for your business. Its the quickest and easiest way.
Key benefits:
Create a presence in multiple cities by adding more local numbers.
Give your business a trusted feel that appeals to local customers.
Prospects and customers are more likely to answer local numbers.
Separate your work and personal life, even if you're using the same
phone.
How to Get a Memorable & Professional Business Phone Number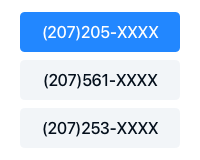 Pick a Number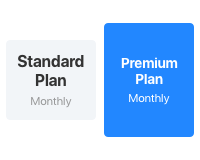 Choose a Plan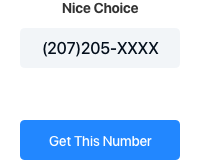 Get Started