Get a Toll-Free Number for Your Business
Let your callers know you're an established business with a toll-free number.
EasyLine affordable toll-free numbers and high-volume minute bundles can help you connect with more customers.

Instant setup

No Contracts

Cancel Anytime
What Are Toll-Free Numbers
and What Are Their
Characteristics?
Toll-free numbers (also known as Free Phone Numbers) are phone numbers featuring a specific 3-digit area code that do not charge callers. Here we can see clearly that a toll-free number has the following two characteristics:
It starts with one of the toll-free codes — 800, 888, 866, 855, 844, 833, or 822.
It doesn't charge callers when they dial — whoever owns the toll-free phone number pays instead.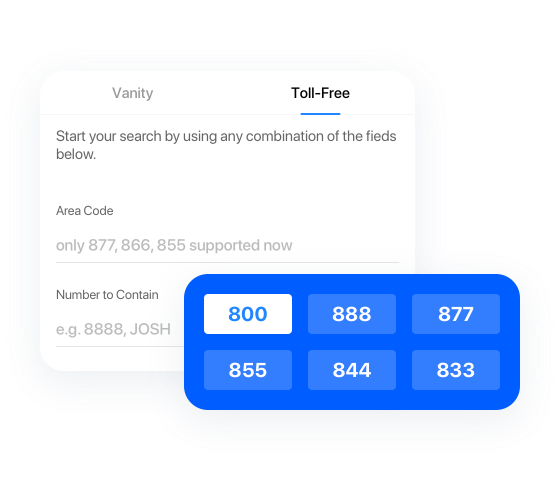 What Is a Vanity Toll-Free Number, and Why Does It Give You a Business Boost?
First, we need to figure out what a vanity number is. A vanity number is a group of digits created specifically for you that spell out a word or are distinctive in some manner. On your phone keypad, a vanity number usually spells out something. For example, a housing company may use 1-800-HOUSING as its business number. With the letters typed out using the phone keypad, 1-800-HOUSING translates to 1-800-468-7464 (far less memorable).
So here we are very clear now. A vanity toll-free number is the same as any toll-free number, but it has digits that spell out a phrase or word that is related to whatever service or product the company offers. This is used by businesses that want their phone number to be easier to remember and coincide with corporate branding.
Combining the features of vanity numbers and toll-free numbers, vanity toll-free numbers are easy to remember and stick in your head, so you'd get something like "1–800–HOUSING," which gives you the best of both worlds. Because they are so easy to remember,
Vanity toll-free numbers have been proven to improve the number of incoming calls and sales. They have had a very beneficial influence on improving brand recognition when used in advertising efforts such as television or radio.
They are 14 times easier to remember than generic phone numbers. According to 800response, businesses that utilize unique vanity toll-free phone numbers and call-tracking solutions in their advertising materials see a 25–50% increase in response rates.
Are You Paying More for Your Toll-Free Number than It's Worth?
As we mentioned above, toll-free numbers are phoned at no cost to the caller. Instead, the call recipient is responsible for any charges related to the call. While this may not appear to make sense for the typical homeowner, it's perfect for businesses. Why?
Toll-free numbers are very handy for businesses' customer service and sales. You, as the owner of the number, are billed for both incoming and outgoing calls. If your customers and prospects could call you with inquiries without needing to spend any money, they are far more likely to contact you. It is a wonderful approach to ensuring that your prospects and customers have the lowest barrier to entry possible when dealing with your business because it is absolutely free for callers.
Toll-free phone numbers are seen as a status symbol. Since the 1950s, when they were first introduced. Toll-free numbers were only solely available to the largest corporations, and while they are now more widely available, customers still have that mindset.
Companies that have a toll-free number seem to be more reliable and well-established. Having a toll number meant you had a well-established business that could cover the cost of calls for your customers, and it added to the professionalism of your business. They are a simple way to make an outstanding impression, whether you want to dazzle new clients or show existing consumers that you operate a well-managed firm.
How to Get a Toll-Free Number and How Does It Work?
EasyLine makes it easy to start using your toll-free number right away. You can set up toll-free numbers for your company or business within minutes, irrespective of the size of your organization. Get a vanity toll-free phone number for your business in less than 3 minutes with EasyLine!
And now, without getting too technical, let's go over the toll-free functioning procedure.
A prospect or a consumer calls the toll-free number provided by the company.
The call is routed to a cloud telephony provider, such as EasyLine.
EasyLine establishes a link between the client and the company.
The company that owns the toll-free number bears the expense of that no-call cost for the end-customer and pays an additional premium per call.
How Are Toll-Free Numbers Relevant for Businesses of Different Sizes, and What Are the Benefits?
Toll-free numbers are not appropriate for freelancers or solopreneurs since you must pay the cost for all incoming and outgoing calls. In this instance, obtaining a local number is preferable.
However, if you are running a small business or a large firm, there is no need to wonder whether toll-free numbers are obsolete. You should be aware that toll-free numbers are still important in today's marketing. Despite the fact that they have been accessible for decades, toll-free numbers are still required by businesses in a variety of industries, including insurance, finance, education, health care, and construction.
Here are the benefits of getting a toll-free number for your business.
Available 24/7. Improve the efficiency of your sales and customer service in the long run.
Enhance your company's visibility with custom vanity 800, 888, or other toll-free numbers.
Establish trust. Increase your credibility in the eyes of prospects and consumers.
Expand markets. Toll-free numbers enable you to establish a nationwide presence.
Track promotions. Measure the incoming calls from different marketing campaigns.
Reach more people. Let people with landlines dial your company.
Streamline calls. Instead of employing many phone numbers, utilize a single primary number.
Route calls. Set up toll-free numbers with call routing to specialized teams.
Why Should You Choose
Easyline as a Toll-Free Phone System?
Now that we've explored what a toll-free call is and everything else you need to know about toll-free calling systems, let's look at why EasyLine should be your go-to toll-free number supplier.
EasyLine is not just a phone system either; it has intelligent call routing, multi-marketing solutions, customer management, and business branding solutions, all in one application. EasyLine is ideal for small businesses and individuals. EasyLine is the best choice no matter what industry you are in (healthcare, real estate, e-commerce,financial services, retail & franchise, professional services), and whether you are a solopreneur or a freelancer.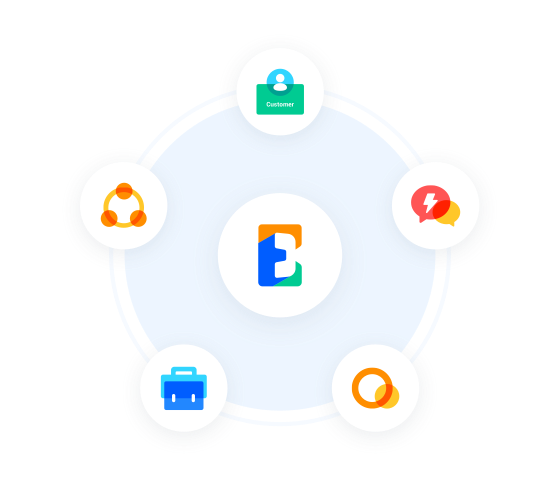 Learn More about Phone Numbers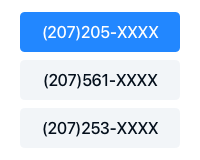 Pick a Number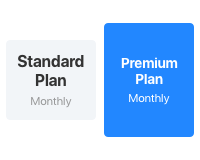 Choose a Plan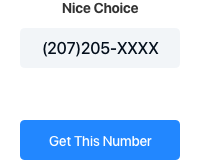 Get Started
Select a Toll-Free Number for Your Business
Choose from toll free numbers that include 800, 888, 877, 866, 855, 844, and 833.
Toll-Free Numbers FAQs
1. How many toll-free numbers in the United States and Canada?

2. What's the difference between 800, 888, 866, 855, 844, 833, and 822 prefixes?

3. What's the difference between toll-free and local numbers?

4. Who pays for toll-free numbers?

Are toll-free numbers free when calling internationally?

Do toll-free numbers work nationwide?