Get an 833 Toll-Free Number
Toll-free 833 numbers are a great alternative to toll-free 800 numbers.
Get an 833 number today and give your business a national presence that can help your business grow.

Instant setup

No Contracts

Cancel Anytime
What Is an 833 Toll-Free Number?
The 833 area code is a toll-free number, like 844, 855, 877, 876, 888, and 800. These toll-free numbers are assigned by the North American Numbering Plan.
Toll-free numbers were originally developed for handling long-distance charges, but marketers are using them more and more for a variety of reasons, such as tracking campaigns and gathering marketing analytics.
It's a great opportunity for businesses to secure an easy-to-remember 833 toll-free number. When you get an 833 number, callers can reach you toll-free from the US, Canada, the USVI, and several other countries in North America.
Differences between 833 Numbers and 800 Numbers
There's no functional difference between 833 and any other toll-free numbers. They all serve the same purpose.
The main distinction is that 833 numbers have never before been offered, giving companies a lot more options. You'll never have to battle to acquire one with newer possibilities like the 833 and 855 area codes. It's a new chance for your business to get the "perfect" number that wasn't previously available.
But having seven unique codes ensures that businesses will always be able to claim their own toll-free numbers when they need it.
The Benefits of Using an 833 Number for Your Business
833 numbers are highly beneficial for companies of all sizes. Here are four benefits you may experience when you get an 833 number.
Save your customers' money: they will be more inclined to make the call if they don't have to pay for it.
Increase your brand's visibility: It allows you to effectively build your brand across multiple media platforms.
Make your business easier to remember: Toll-free numbers can get stuck in your head for ages—catchy jingles optional.
Demonstrate your legitimacy and give you a professional appearance: 833 numbers are so widely used by established brands that clients may see you as an industry leader.
Are 833 Toll-Free Numbers Still Available?
EasyLine provides a huge inventory of toll-free business phone numbers in the U.S. and Canada to meet your needs.
If you have a business, it could be a good idea to get your own 833 toll-free number, as this number is not only accessible in the United States but in Canada and the Caribbean as well, and potential customers can call you for free, giving you far wider exposure. Due to the high demand for toll-free numbers, 833 is now being auctioned.
Now check for 833 numbers' availability on our website, or contact our sales and we can try and help you locate the number you are looking for. It's time to set up phone numbers for your company or business within minutes, irrespective of the size of your organization.
Get a phone number for your business now.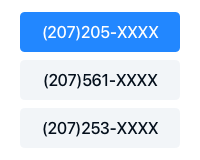 Pick a Number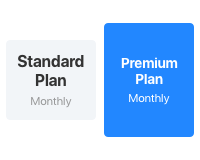 Choose a Plan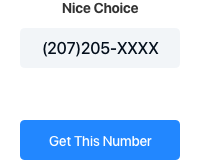 Get Started
Get a Memorable 833 Number for Your Business before They Run Out
View every available 833 number for sale in the US and Canada.
833 Toll-Free Numbers FAQs
1. Besides the prefix, what is the difference between an 800 number and an 833 number?

2. How long will 833 toll free numbers be available for purchase?

3. Can I port my toll-free number?

4. Can I do call recording on my toll-free number for Customer Support?

5. Can I send text messages with 844 numbers?

6. Why choose EasyLine?