Area Codes in Delaware
Establish your business by using Delaware area codes.
We offer phone numbers all around the United States and Canada.

Instant setup

No Contracts

Cancel Anytime
About Delaware
Delaware is a state in the Mid-Atlanticregion of the United States, bordering Maryland to its south and west; Pennsylvania to its north; and New Jersey and the Atlantic Ocean to its east. The state takes its name from the nearby Delaware River named after Thomas West, 3rd Baron De La Warr, an English nobleman and Virginia's first colonial governor.
Area codes in Delaware
Delaware currently utilizes 1 area code. 302 has covered the entire state since the modern phone system was established by AT&T and the Bell System in 1947.
How many area codes are there in Delaware?
There is a total of 1 area code in Delaware - 302.
The largest cities in Delaware
Wilmington, Dover, Newark, Middletown, Bear, Glasgow, Hockessin, Brookside, Smyrna, Milford
Why should you have a local phone number for business?
1. Greater visibility: Having a local phone number may help you create your brand and grow your business.
2. Simple tracking: Using local numbers draws clients from the surrounding region and allows you to better service them.
3. Improved connectivity: Local numbers link you directly to a customer service professional in your local store.
4. Extending your business reach: If you have a local office and wish to spread your services to other cities. What would you do in this situation? Get a local phone number in the other city first.
5. Automated responses and customer Satisfaction: Auto-attendant, call-forwarding, and the option to record messages, just like toll-free lines, help streamline company procedures.
Can I request a specific phone number in Delaware?
For branding purposes, choosing a memorable local vanity number is helpful. You can get a specific phone number by requesting it from EasyLine. EasyLine was created to make your business easier. You can easily engage with customers, stay responsive, grow your business and build your brand identity. Try a dedicated business line and separate work from life! All in one: Manage all business calls, texts, and voicemails in this easy-to-use phone number app. Here are tips for you to get a local number you like:
Sign up for EasyLine and get your number.
Step 1: Visit the EasyLine website and register.
Step 2. You can search for available numbers by area code.
Step 3. Next to the number you want, click Select.
Step 4. Review the Terms of Service and Privacy Policy. 
Step 5. Pick and subscribe to a plan. Instant setup, no contracts, cancel anytime.
Step 6. Follow the on-screen instructions to pay.
Step 7: Get the EasyLine app from the App Store or Google Play.
Step 8: Begin your EasyLine business journey by logging into the EasyLine Application.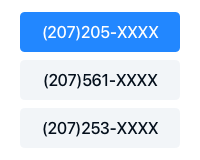 Pick a Number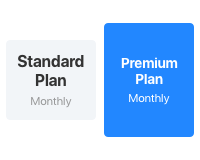 Choose a Plan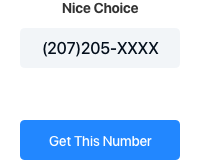 Get Started
Get a local Delaware number for your business
Starting at $9.99 per month, you can now get your new number.
Complete List of US and Canada Area Codes
You can look up area codes by US states and Canadian provinces. Click the specific area code link to view the details.
United States Area Code List