Get a Vanity Phone Number for Your Business
Stand out from the crowd with a vanity number for your business.
EasyLine is more than a vanity phone number generator & search engine.

Instant setup

No Contracts

Cancel Anytime
What Is a Custom Vanity Phone Number?
A custom vanity phone number is a local or toll-free phone number that spells out a specific word or name with the corresponding letters on a phone keypad.
They're now extensively employed in products, names, and services, assisting in the development of your company's image and credibility while also providing clients with an easy way to remember your phone number.
A vanity number can be combined with a local number or a toll-free number, to create countless customization possibilities that can meet the needs of all kinds of people, whether you are a small business or an individual.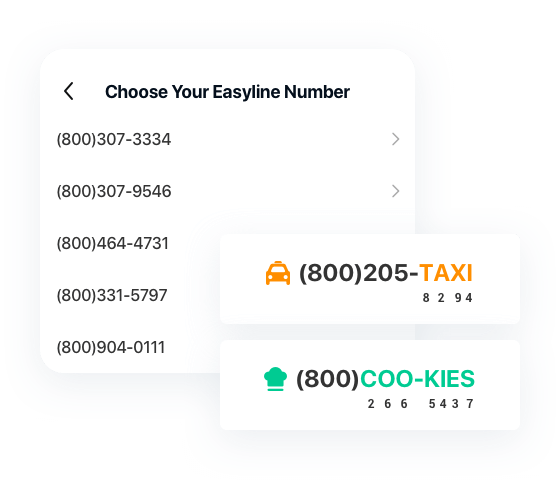 Best Practices When Requesting a Vanity Number
First and foremost, there are two primary components that must be addressed. Despite the fact that they may appear self-evident, your initial concerns should be: First, your company's name. Second, the service offered (what you do).
Other aspects to think about include:
Keep it simple and straightforward. It's simpler to recall short numbers.
Slang should be avoided. Many slang terms have many spellings, making it difficult to dial the correct numbers.
To be inventive. This is going to be a challenging process.
Apart from the considerations mentioned above, another factor to consider is whether you want a toll-free (800 prefix) or a local number.
Who Needs Vanity Numbers?
Vanity numbers can be a main part of your marketing or advertising strategy, no matter if you are a small business, a solopreneur, or an individual.
If you're running a business, some references to vanity toll-free numbers:
1-800-RENTING - A memorable number for a rental company.
1-888-WEDDING - Easy to remember this wedding company.
If you are a local solopreneur, some examples of vanity local numbers:
1-310-CLEANUP - A homemaking company in LA.
1-212-GETFOOD - A local restaurant in New York.
If you are a freelancer, you may get a vanity number with your name:
1-212-BATTETT 1-212-JOHNSON
The Benefits of Getting a Vanity Number for Business
A vanity business phone number will undoubtedly help your consumers remember you while also helping you brand your company, raise awareness, and increase your return on investment. If you execute it correctly, this number will impact the way your business grows, and it may happen sooner than you think.
There are several advantages to using a vanity number:
Create a brand identity that people will remember.
Improve the recognition of your business cards, website, and brand.
Make your company appear bigger and more established.
With a toll-free number, you can reach clients all throughout the country.
Increase your your traffic and lead generation.
Features That Come with Every Easyline Vanity Number
Vanity numbers stick in our long-term memory and offer your brand a feeling of permanency and authority. A vanity number with EasyLine has a lot more to offer than just that. Our quick setup means that your new vanity number might be ready to use in as little as three minutes, with no setup costs or expensive hardware required.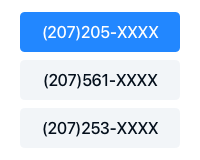 Pick a Number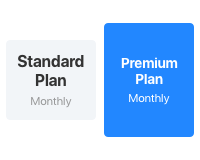 Choose a Plan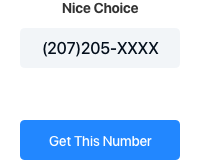 Get Started
Get Started with a Toll-Free or Local Vanity Number in Minutes
Search our database of millions of vanity numbers across the United States and Canada.
Vanity Numbers FAQs
1. Why choose your vanity number from EasyLine?

2. Is it worth buying a vanity number to boost sales and marketing?

3. How do I choose a vanity phone number?

4. How do I search for variable vanity toll-free numbers online?

5. What if I can't find a vanity toll-free phone number related to my company's name?

6. Can EasyLine help me find a vanity phone number?