971 Area Code
Get a 971 area code phone number to start your business
It's necessary to choose a memorable local vanity number for branding.

Instant setup

No Contracts

Cancel Anytime
Brief introduction of 971 area code
Receiving unfamiliar calls from a new number is quite suspicious. Is the caller linked with scammers? Where is the call coming from? If you want to know more about the area code 971, you might wanna continue reading.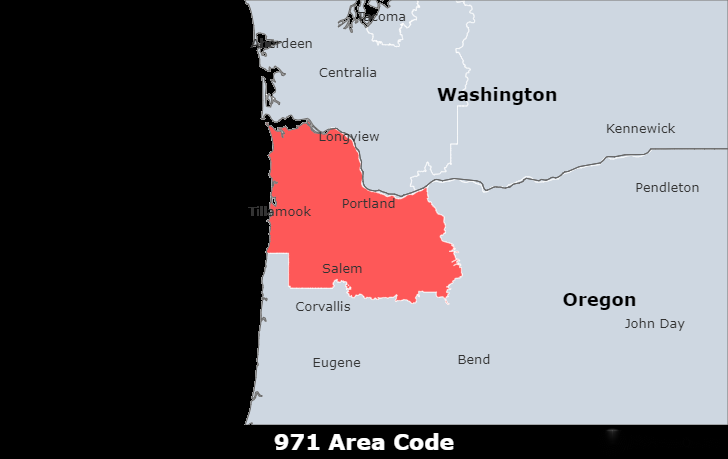 What is area code 971?
971 was first put in service October 1, 2000. It was created from area code 503.
Where is area code 971 ?
Area code 971 is located in northwestern Oregon and covers Portland, Salem, Gresham, Hillsboro, and Beaverton. It is an overlay for area code 503 and serves the same area.
What is the timezone of area code 971?
The 971 Area Code is located in the PacificTimezone.
What is the major city in area code 971?
Portland, city, seat (1760) of Cumberland county, southwestern Maine, U.S. The state's largest city, it is the hub of a metropolitan statistical area that includes the cities of South Portland and Westbrook and the towns of Falmouth, Cape Elizabeth, Cumberland, Freeport, Gorham, Scarborough, Windham, and Yarmouth and, in York county, the town of Old Orchard Beach. The city is built largely on two hilly peninsulas overlooking Casco Bay and its many islands.
What are the area codes near 971?
503/971 (Portland, OR);
509 (Spokane, WA);360/564 (Vancouver, WA);
458/541 (Eugene, OR);
Is area code 971 a scam?
It is important to note that the area code 971 is an overlay for the area code 503, which is the original code that served the entire state of Oregon. Also, make sure to look up the number of the call you received to avoid being scammed.
Is it called toll free from area code 971?
The 971 number is not toll free. The company or business you acquired with telecommunication services may apply charges depending on what service you have. To be sure, review the terms and conditions of the company who operates the line.
There are key advantages to using a local phone number to start a business
1. Be a Local - A phone number with a local area code number can be more personable and credible to potential customers.
2. Save on expenses - Competitive prices offered by EasyLine will help your business save where it matters the most.
3. Marketing - Use local phone numbers to track marketing efforts and advertise.
4. Mask your number - When making outbound calls, your second phone number can appear on the caller ID so you don't have to share your personal information.
5. Stay reachable - Use advanced features like business hours and intelligent call routing to make sure someone always answers and you don't miss a beat.
What's the best way to acquire a 971 phone number?
EasyLine provides both toll-free and local phone lines. Look through our online selection for a new business number! It's extremely simple! Please give EasyLine a go. It is simple to use and includes a range of functions. If you are in healthcare industry, you can get EasyLine to create a patient-first practice. If you are in real estate industry, you can seize your every sales opportunity with EasyLine by using our powerful tools, etc.
For your business branding, No matter you are a small enterprises, or sole proprietor, or freelancer, you'd better select a memorable local vanity number.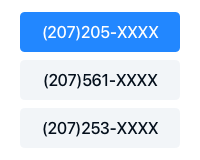 Pick a Number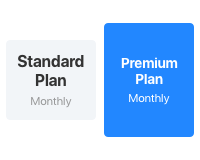 Choose a Plan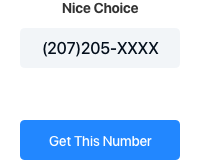 Get Started
Get a 971 area code number for your business
By publishing a phone number with any area code, you can establish a local presence anywhere.
Complete List of US and Canada Area Codes
You can look up area codes by US states and Canadian provinces. Click the specific area code link to view the details.
United States Area Code List