941 Area Code
Choose and purchase a 941 local number for marketing purposes.
Give your company a trustworthy image that will appeal to local clients.

Instant setup

No Contracts

Cancel Anytime
What is area code 941?
941 was first put in service May 28, 1995. It was created from area code 813. 941 was split in 1999 creating the need to update some of the phone numbers to area code 863, and again in 2002 to create area code 239.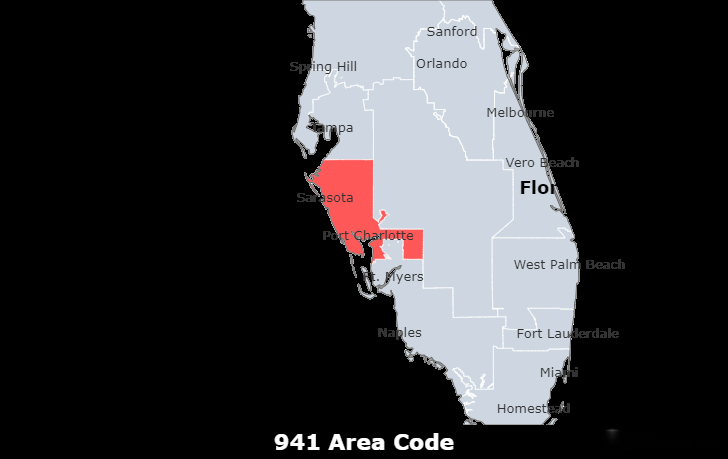 Where is area code 941 located?
Area code 941 is located in Florida and covers North Port, Port Charlotte, and Sarasota. It is the only area code that serves the area.
What is the timezone of area code 941?
The 941 Area Code is located in the EasternTimezone.
What are the area codes near 941?
813 (Tampa, FL);
863 (Lakeland, FL);
941 (North Port, FL);239 (Cape Coral, FL);
321 (Orlando, FL);
407 (Orlando, FL);
727 (St. Petersburg, FL);
The importance of using a local phone number when starting a business
1. Separate your work and life - It is the perfect way for separating your work and personal lives on a single phone.
2. The value of the area code itself - For businesses, having an area code specific to their city of operation is very important. A prestigious phone area code is extremely valuable and rare.
3. A better company presence - Recognizable area codes are more professional. Seventy-three percent of the respondents agree that having a recognizable area code makes their business appear more legitimate and professional.
4. Trusted by local customers - Local numbers are more familiar and reliable to potential customers, so if you want to use a contact number in your local marketing campaigns, a local phone number works well. This is especially good if your business wants to target customers in a specific region.
How do I obtain a 941 local phone number for business?
EasyLine will provide you with a second phone number in just 3 minutes! EasyLine for business is a suitable option for small firms, sole proprietors, and freelancers.
Regardless of your organization's size, you may set up phone lines in minutes.
1.Create an EasyLine account for free.
2.Enter your phone number and password to gain access.
3.Choose and obtain your second phone number, as well as your selected area code (or buy a toll-free number).
Plus: EasyLine gives you not only phone calls, but also other powerful features, to get you up and running much easier. EasyLine will support your business needs as you grow.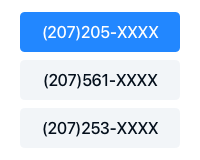 Pick a Number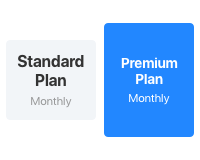 Choose a Plan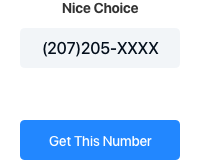 Get Started
Get a 941 area code number for your business
Provide nationwide toll-free service to add value and convenience for customers.
Complete List of US and Canada Area Codes
You can look up area codes by US states and Canadian provinces. Click the specific area code link to view the details.
United States Area Code List