912 Area Code
Contact your local customers by using the number of 912 number.
Get a permanent local phone number for your home or business.

Instant setup

No Contracts

Cancel Anytime
What is the 912 area code?
912 was first put in service January 1, 1954. 912 was split in 2000 creating the need to update some of the phone numbers to area code 478, and again in 2000 to create area code 229.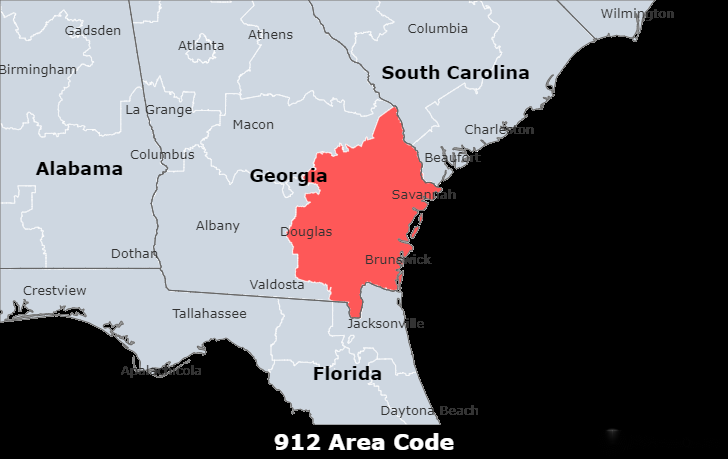 Where is area code 912 ?
Area code 912 is located in southeastern Georgia and covers Savannah, Hinesville, and Statesboro. It is the only area code that serves the area.
What timezone does the area code 912 belong to?
The 912 Area Code is located in the EasternTimezone.
What is the main city in area code 912?
Savannah, industrial seaport city, seat (1777) of Chatham county, southeastern Georgia, U.S., at the mouth of the Savannah River. Savannah was established in 1733 by James Edward Oglethorpe, the founder of Georgia, who named it for the river. The city was planned around a system of squares, which have been made into small parks and planted with semitropical flora; these are surrounded with buildings in a variety of architectural styles (notably Georgian Colonial and Greek Revival), and hundreds have been restored. Savannah exceeds all other Georgia cities in historic interest and is a leading tourist centre.
What are some of the area codes around 912?
803 (Columbia, SC);
843/854 (Charleston, SC);
904 (Jacksonville, FL);
912 (Savannah, GA);229 (Albany, GA);
386 (Palm Coast, FL);
478 (Macon, GA);
706/762 (Augusta, GA);
Why do people opt for one-of-a-kind vanity local phone numbers for marketing?
1.In-Demand Features. From caller ID, custom greetings, and voicemail to call forwarding, your EasyLine business phone number can get you features that allow you to increase your reach, speed responsiveness, and deliver an enhanced customer experience.
2.Reliability and Scalability. EasyLine's solution has proven to go the distance in terms of always-up reliability and top-rated performance for businesses of all sizes. EasyLine has been built to scale with businesses that need to add functionality for rapidly growing teams and additional locations.
3.Flexible Work Environment. Whether you have multiple locations or scattered remote workers, EasyLine has the tools and features that accommodate all types of working environments. By using auto attendant, call forwarding, etc. EasyLine helps you work from anywhere, anytime.
Are 912 area code phone numbers still available?
EasyLine is a reliable source of local phone numbers in the United States and Canada. EasyLine is appropriate for any type of company. We provide low-cost business phone numbers and plans that scale with your needs.
EasyLine is an excellent solution for Healthcare, Real Estate, e-commerce, Financial Services, Retail & Franchise, Professional Services, and other industries.
EasyLine delivers robust features/solutions to satisfy your demands regardless of industry.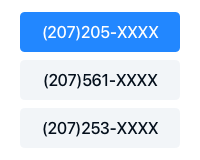 Pick a Number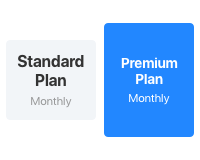 Choose a Plan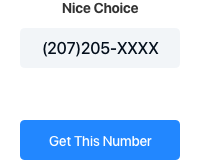 Get Started
Get a 912 area code number for your business
Separate your work and personal lives.
Complete List of US and Canada Area Codes
You can look up area codes by US states and Canadian provinces. Click the specific area code link to view the details.
United States Area Code List