856 Area Code
Select an 856 area code phone number for your marketing
For branding purposes, choosing a memorable local vanity number is helpful.

Instant setup

No Contracts

Cancel Anytime
What is the 856 area code?
856 was first put in service June 12, 1999. It was created from area code 609.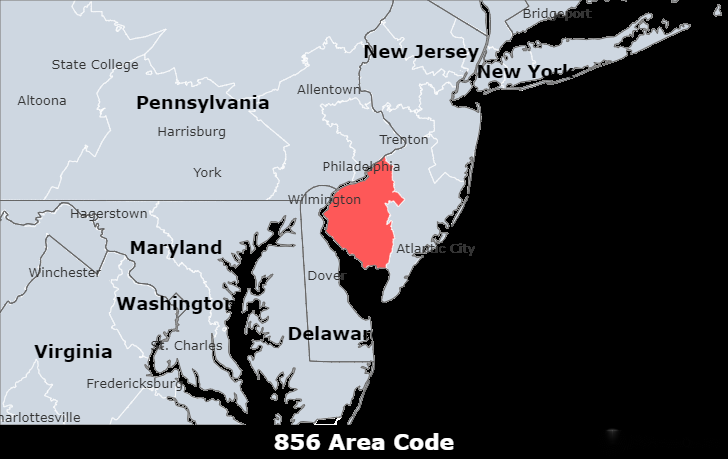 Where is area code 856 ?
Area code 856 is located in southwestern New Jersey and covers Camden, Vineland, and Millville. It is the only area code that serves the area.
What timezone does the area code 856 belong to?
The 856 Area Code is located in the EasternTimezone.
What is the main city in area code 856?
Camden, city, seat (1844) of Camden county, New Jersey, U.S., on the Delaware River, there bridged to Philadelphia, Pennsylvania. In 1681, the year before Philadelphia was founded, William Cooper built a home near the Cooper River where it enters the Delaware and named the tract Pyne Point. Settlement, largely by Quakers, was slow. A town site was laid out by Jacob Cooper, a descendant of William, in 1773. It was named for Charles Pratt, 1st Earl Camden, whose opposition to British taxation policies made him popular with the American colonists. The development of the new village was impeded by the American Revolution, and Camden was often held by the British when they occupied Philadelphia. After 1800 growth was spurred by increased ferry services and the advent of the railroad.
What area codes are nearby 856?
215/267/445 (Philadelphia, PA);
302 (Delaware);
410/443/667 (Baltimore, MD);484/610 (Allentown, PA);
609/640 (Trenton, NJ);
856 (Camden, NJ);
How can a local phone number help your business?
1.Get a local business number in every city you do business in, without the need to install new phone lines.
2.Build customer trust and encourage referrals by having a 'local' image no matter where your business in located.
3.Use a unified business number for all your calls. Fixed Caller ID shows customers your EasyLine number for outgoing calls.
4.Enjoy complete portability with EasyLine Local Numbers. Keep the same business numbers even if you move or relocate.
5.Reduce missed calls and keep your leads hot with a Local Number service packed with flexible call handling functions.
6.Track your usage and identify which marketing campaigns are making ROI with the help of our free built-in call reports.
Where can I get a local phone number with 856 area code?
EasyLine can provide you with a specific phone number if you request it. For professionals, freelancers, and businesses, EasyLine is a fun and powerful business phone. EasyLine streamlines your communication so you can focus on what you love, whether it's for privacy, productivity, collaboration, or just having a distinct number. EasyLine provides you with a second phone number as well as all of the communication tools you'll need to get started, work, grow, and achieve your dreams. Here are the tips for you to get a second phone number.
Step 1: Find a local number in any North American city with a specific 3-digit area code.
Step 2: From the recommended options, choose a local number that you like.
Step 3: If you haven't created an account, you may register in this step.
Step 4: Choose a value plan. There are no hidden costs. There are no long-term contracts. There will be no surprises.
Step 5: Subscribe. Your membership will automatically renew unless you cancel it, which you can do at any time.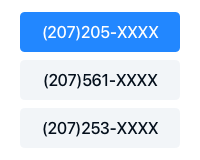 Pick a Number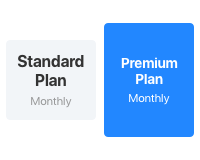 Choose a Plan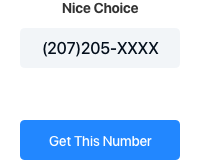 Get Started
Get an 856 area code number for your business
Thousands of businesses rely on EasyLine to communicate with their customers and prospects.
Complete List of US and Canada Area Codes
You can look up area codes by US states and Canadian provinces. Click the specific area code link to view the details.
United States Area Code List