854 Area Code
Pick an 854 area code phone number for your promotion
For branding considerations, it's important to have a memorable local number.

Instant setup

No Contracts

Cancel Anytime
What is an 854 area code?
854 was first put in service October 19, 2015. It was created from area code 843.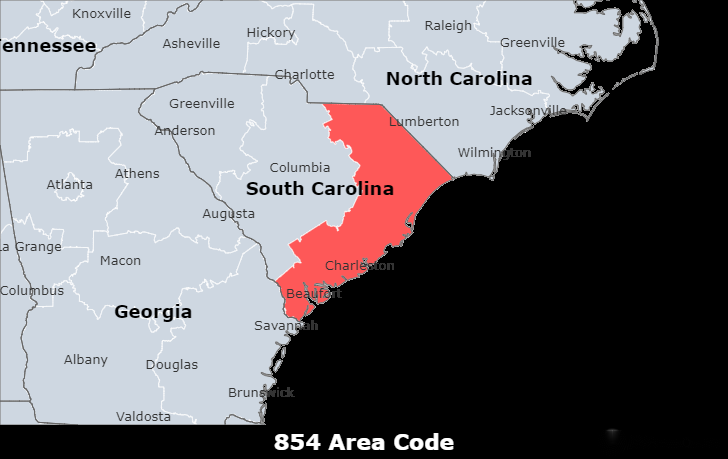 Where is area code 854 located?
Area code 854 is located in eastern South Carolina and covers Charleston, North Charleston, and Mount Pleasant. It is an overlay for area code 843 and serves the same area.
What timezone is used for area code 854?
The 854 Area Code is located in the EasternTimezone.
What is the major city covered by area code 854?
Charleston, city, seat (1830) of Coles county, east-central Illinois, U.S. It lies near the Embarras River, about 45 miles (70 km) south of Champaign. First settled by Benjamin Parker (1826), it was named for Charles Morton, its first postmaster. In September 1858 Charleston was the scene of the fourth debate between Abraham Lincoln and Stephen A. Douglas (see Lincoln-Douglas debates), attended by some 12,000 people; Coles County Fairgrounds, the site of the debate, houses a Lincoln-Douglas museum. Charleston's economy is based on educational services and health care, and it has some manufacturing (chiefly truck trailers) and agriculture (corn [maize] and soybeans). It is the seat of Eastern Illinois University (founded in 1895 as a state normal school); the Tarble Arts Center, with a fine collection of Illinois folk art, is located on the university's campus. Lake Charleston is just southeast of the city, and Fox Ridge State Park and Lincoln Log Cabin State Historic Site (reconstructed on the site where Lincoln's father's house originally stood) are to the south. Inc. village, 1835; city, 1865. Pop. (2000) 21,039; (2010) 21,838.
What are some area codes near 854?
843/854 (Charleston, SC);
910 (Fayetteville, NC);
912 (Savannah, GA);252 (Greenville, NC);
704/980 (Charlotte, NC);
803 (Columbia, SC);
How can your business benefit from a local phone number?
1. Better appearance of a well-established local business. Even if your company is located abroad, having a local phone number in the neighborhood where you conduct business gives you a local presence. You could use a local business number in any area where you offer services. 
2. Come across as more professional. A business number from EasyLine is more than simply a phone number. It's a phone number that's been improved with features that give callers the idea they're contacting a company with a professional phone system, rather than a random guy's mobile phone.
3. Run your company from your Smartphone. EasyLine's numbers are designed to help your business seem professional and stay connected, making it ideal for entrepreneurs who want all of the power of a professional business phone system without the bother of telecom equipment. To put it another way, you can operate your business on your phone and seem like a Fortune 500 firm.
4. Maintain Customer Satisfaction. You can't constantly answer client calls if you're a busy startup with limited time, money, and employees. This is where EasyLine comes into play. Even if you're a one-woman show or a busy mompreneur, EasyLine will never let you miss a call because the EasyLine Auto-Attendant can answer the phone and take a message even if you're not available to chat. As a result, your consumers will have a positive experience, and you will remain organized for customer follow-ups.
5. Be remembered for a longer period of time. Customers may be greeted with a professional-brand message when they phone your EasyLine number. "Thank you for calling XXX-We provide XXX," for example, is a common greeting. Your startup may now sound as opulent as large corporations, reinforcing your brand every time a consumer calls.
6. Save money. It is not necessary to spend a lot of money to set up a competent company phone system. A number from EasyLine comes with all of the features you'll need for your business. There are no setup fees, no hardware to buy, and no extra software to install. You can sign up for a month-to-month plan for less than $10.
What is the procedure for obtaining an 854 local phone number?
For consumers in various locations, EasyLine offers a range of phone numbers.
You can get a specific phone number by requesting it from EasyLine. EasyLine is a delightful and powerful business phone for professionals, freelancers, and companies. Whether it's for privacy, productivity, collaboration, or just a separate number, EasyLine streamlines your communication so you can focus on what you love. EasyLine gives you a 2nd number with all the communication tools you need to start, work, grow, and pursue your passion. You can get a local business phone number from EasyLine in following steps:
Step 1. Search a local number in any city and area code in North America. Enter your preferred 3-digit area code, e.g. 201
Step 2. Select a Local Number You Like from recommended results.
Step 3. If you haven't logged in your account, you have to sign in, then continue the next operation.
Step 4. Choose your plan. No hidden fees. No long term contracts. No surprises.
Step 5. Subscribe. Your subscription is auto-renewing until you cancel, you may cancel it anytime.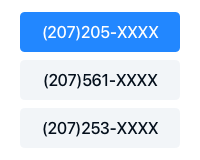 Pick a Number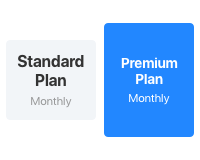 Choose a Plan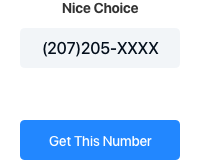 Get Started
Get an 854 area code number for your business
Get a local phone number in any city in North America and start using it right away.
Complete List of US and Canada Area Codes
You can look up area codes by US states and Canadian provinces. Click the specific area code link to view the details.
United States Area Code List