820 Area Code
For your advertising, use an 820 local number.
Give your company a trustworthy image that local clients will appreciate.

Instant setup

No Contracts

Cancel Anytime
What is an 820 area code?
820 was first put in service June 30, 2018. It was created from area code 805.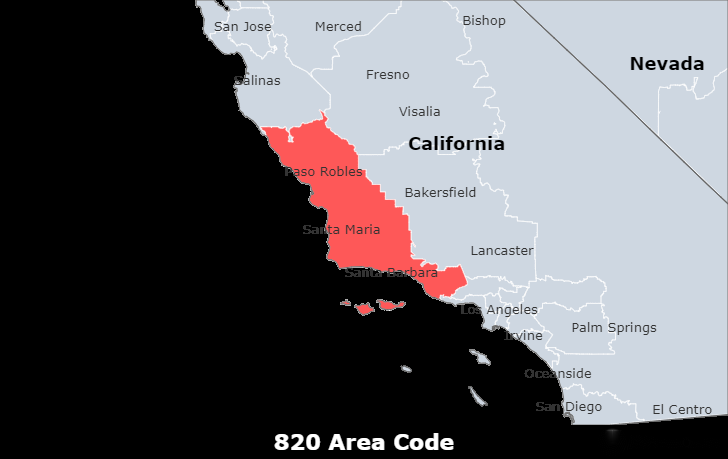 Where is area code 820 located?
Area code 820 is located in California and covers Oxnard, Simi Valley, Thousand Oaks, San Buenaventura (Ventura), and Santa Maria. It is an overlay for area code 805 and serves the same area.
What timezone is used for area code 820?
The 820 Area Code is located in the PacificTimezone.
What is the major city covered by area code 820?
Oxnard, city, Ventura county, southwestern California, U.S. It lies near the Pacific coast, between Los Angeles and Santa Barbara. Originally inhabited by Chumash Indians, the city was founded in 1898 near the site of the Spanish colonial Mission San Buenaventura (1782). The city developed around a sugar-beet factory financed by Henry Oxnard and his three brothers. Other crops grown in the area, including beans and barley, were based on the surrounding alluvial plain. With the development of harbour facilities at adjacent Port Hueneme and nearby military installations, the city grew rapidly and expanded its economic base to include electronics and aerospace plants. Tourism is also economically important. Local attractions include the Carnegie Art Museum (housed since 1980 in the Carnegie Library [opened 1907]) and the Ventura County Maritime Museum. A community college (1975) is located in the city. Point Mugu and Leo Carrillo state parks, Santa Monica Mountains National Recreation Area, and several beaches are nearby. Inc. 1903. Pop. (2010) 197,899; Oxnard–Thousand Oaks–Ventura Metro Area, 823,318; (2020) 202,063; Oxnard–Thousand Oaks–Ventura Metro Area, 843,843.
Which area codes are closest to 820?
310/424 (Los Angeles, CA);
442/760 (Oceanside, CA);
559 (Fresno, CA);
661 (Bakersfield, CA);747/818 (Los Angeles, CA);
775 (Reno, NV);
805/820 (Oxnard, CA);
831 (Salinas, CA);
The benefits of selecting a vanity local umber for your company
1. Reach clients in a specific region or city
2. Build a presence for your local business
3. Build more personal relationships with your customers
How do I obtain a certain phone number with the area code 820?
Using an easy-to-remember local phone number will help your brand stand out.
EasyLine - Great value plans with no lock-in contracts. To obtain a local phone number, you need to contact a service provider that provides phone numbers for the area you need. EasyLine is specifically designed for small businesses and individuals. We offer local numbers in many markets throughout the US and Canada to meet your needs. You can get a local business phone number by following these steps:
Step 1: Visit the EasyLine website and register.
Step 2. Choose your number types - toll free numbers or local numbers. 
Step 3. Search for and select the number you like. 
Step 4. Pick your value plan. From $9.99/month.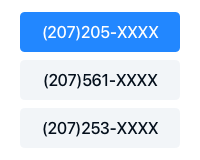 Pick a Number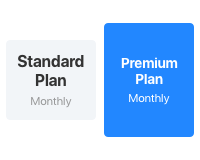 Choose a Plan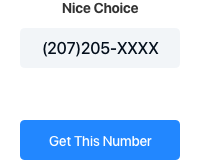 Get Started
Get an 820 area code number for your business
Provide nationwide toll-free service to add value and convenience for customers.
Complete List of US and Canada Area Codes
You can look up area codes by US states and Canadian provinces. Click the specific area code link to view the details.
United States Area Code List