801 Area Code
Boost your incoming calls and sales with 801 area code.
EasyLine offers multiple phone numbers to customers in different locations.

Instant setup

No Contracts

Cancel Anytime
What is area code 801?
801 is one of the original 86 area codes created by AT&T and the Bell System in 1947. It originally served the entire state of Utah. 801 was split in 1997 creating the need to update some of the phone numbers to area code 435. In 2009, area code 385 was created and is currently an overlay to 801.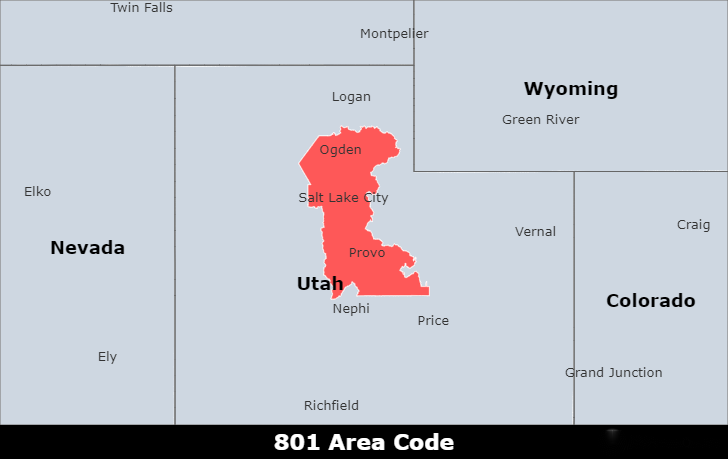 Where is area code 801 located?
Area code 801 is located in Utah and covers Salt Lake City, West Valley City, Provo, West Jordan, and Orem. It has a single overlay (385) that serves the same area.
What is the timezone of area code 801?
The 801 Area Code is located in the MountainTimezone.
What is the major city in area code 801?
Salt Lake City, state capital and seat (1849) of Salt Lake county, north-central Utah, U.S., on the Jordan River at the southeastern end of Great Salt Lake. The world capital of the Church of Jesus Christ of Latter-day Saints (Mormons), it influences the social, economic, political, and cultural life of the people in a wide area of Utah and bordering regions of Idaho, Nevada, and Wyoming. Built on benches of ancient Lake Bonneville, the city (approximate elevation 4,300 feet [1,300 metres]) lies at the foot of the Wasatch Range, which rises more than 1 mile (1.6 km) above the Salt Lake valley floor. Salt Lake City is at the centre of an urbanized band along the mountains that includes Ogden to the north and Provo to the south. Inc. 1851. Area city, 111 square miles (287 square km). Pop. (2000) 181,743; Salt Lake City Metro Area, 968,858; (2020) 199,723; Salt Lake City Metro Area, 1,124,197.
What are the area codes near 801?
307 (Wyoming);
385/801 (Salt Lake City, UT);435 (St. George, UT);
What are some of the advantages of having a local phone number?
1. Keep your work and personal lives separate on one phone - It's the ideal approach to keep your work and personal lives separate on one phone.
2. The value of the area code itself: For companies, having an area code that is appropriate to their location is crucial. A well-known phone area code is extremely valuable and difficult to get.
3. Greater corporate visibility: According to studies, easy-to-recognize area codes are perceived as more professional. Having a well-known area code, according to 73% of respondents, makes their company appear more genuine and professional.
4. Local clients trust local numbers: Including a local phone number in your local marketing efforts is a smart idea because local numbers are more well-known and reliable to potential customers. This is especially handy if your business wishes to target consumers in a certain location.
What's the best way to acquire an 801 phone number?
People do prefer unique vanity local phone numbers for promotion. But how could you separate your personal life and work? Yes, get a second phone number! You don't need to be an expert in technology to obtain a second phone number. All you have to do now is try EasyLine, and you'll be ready to go.
With EasyLine, you can get a memorable & professional business phone number to make your brand stand out in the crowd. In addition, you can get multi-marketing solutions to seize business opportunities. What's more, you can use intelligent call routing to segment each incoming call. We also provide excellent tools to manage your clients and increase engagement. So get a phone number for your business now.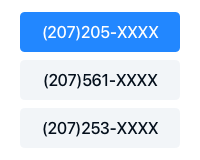 Pick a Number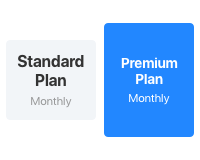 Choose a Plan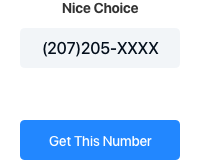 Get Started
Get an 801 area code number for your business
To make it much easier for you to get up and running.
Complete List of US and Canada Area Codes
You can look up area codes by US states and Canadian provinces. Click the specific area code link to view the details.
United States Area Code List