757 Area Code
The majority of what you need to know about 757 area code can be found right here.
Amplify your brand with an easy-to-remember local number.

Instant setup

No Contracts

Cancel Anytime
What is area code 757?
757 was first put in service July 1, 1996. It was created from area code 804. To avoid exhausting all possible phone numbers in this area code, relief planning has begun.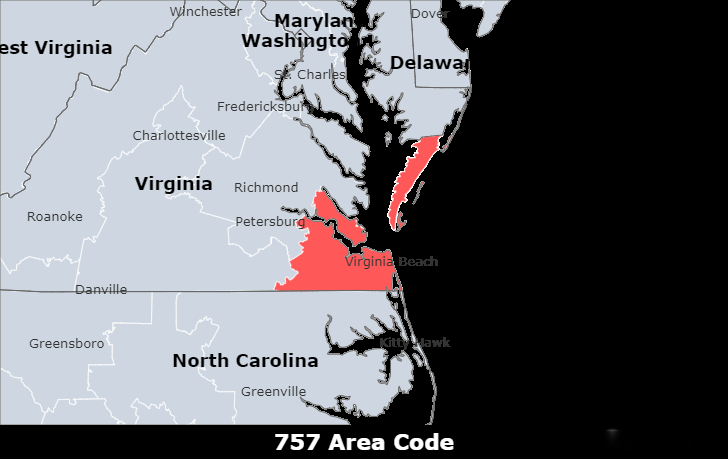 What is the location of area code 757?
Area code 757 is located in eastern Virginia and covers Chesapeake, Newport News, Portsmouth, and Suffolk. It is the only area code that serves the area.
What is the timezone of area code 757?
The 757 Area Code is located in the EasternTimezone.
What is the major city in area code 757?
Virginia Beach, independent city, southeastern Virginia, U.S., on the Atlantic coast and Chesapeake Bay, adjacent to the cities of Norfolk and Chesapeake in the Hampton Roads region. The city extends 28 miles (45 km) southward from the mouth of Chesapeake Bay to the North Carolina border, covering 302 square miles (782 square km) of land and water, with 28 miles (45 km) of ocean front. Back Bay is a brackish lagoon and a national wildlife refuge that occupies about 39 square miles (101 square km) and parallels the ocean at the south end of the city. Founded in 1887, Virginia Beach developed as a resort following construction of a hotel and a railroad linking it with Norfolk. After World War I it became an important base in the national coastal-defense system. In 1963 Virginia Beach and the former Princess Anne county merged as the City of Virginia Beach.
What are the area codes near 757?
540 (Roanoke, VA);
757 (Virginia Beach, VA);
804 (Richmond, VA);240/301 (Germantown, MD);
252 (Greenville, NC);
410/443/667 (Baltimore, MD);
434 (Lynchburg, VA);
Why do you need a vanity local phone number that is one-of-a-kind for marketing?
1.Make yourself appear to be a local from anywhere.
2.Create trust among your customers.
3.Substitute a mobile phone number for a landline.
4.Assign a number to each individual or team.
5.Track phone calls and receive analytics based on phone number.
6.Make your company's phone number memorable.
7.Make your phone numbers adaptable to every situation.
8.Easily forwards calls to the appropriate individuals.
How can I obtain a 757 local phone number?
For branding purposes, choosing a memorable local vanity number is beneficial. You can obtain a specific phone number by contacting EasyLine. EasyLine was created to help you run your business more efficiently. You can easily engage customers, remain responsive, grow your business, and develop your brand identity.
Try a dedicated business line to help you separate work from your personal life! Everything in one place: This simple phone number app allows you to manage all business calls, texts, and voicemails.
Here are some pointers to help you get a desirable local number:
Begin with the first step: Go to the EasyLine website and create an account.
Take the next step: Choose whether to use toll-free or local phone numbers.
Proceed to the third step: Find and choose a number that appeals to you.
Proceed to the fourth step: choosing a value plan. Prices begin at $9.99 per month.
Get a local phone number for your home or business now.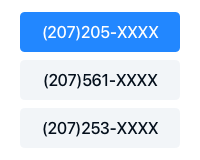 Pick a Number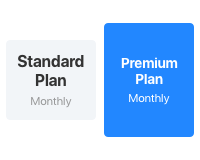 Choose a Plan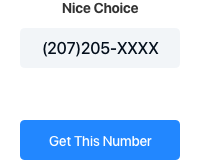 Get Started
Get a 757 area code number for your business
You can get a specific phone number by requesting it from EasyLine.
Complete List of US and Canada Area Codes
You can look up area codes by US states and Canadian provinces. Click the specific area code link to view the details.
United States Area Code List