720 Area Code
How do 720 area code help your business?
Create a presence in your local city by adding a local number.

Instant setup

No Contracts

Cancel Anytime
What is the 720 area code?
720 was first put in service June 1, 1998. It was created from area code 303.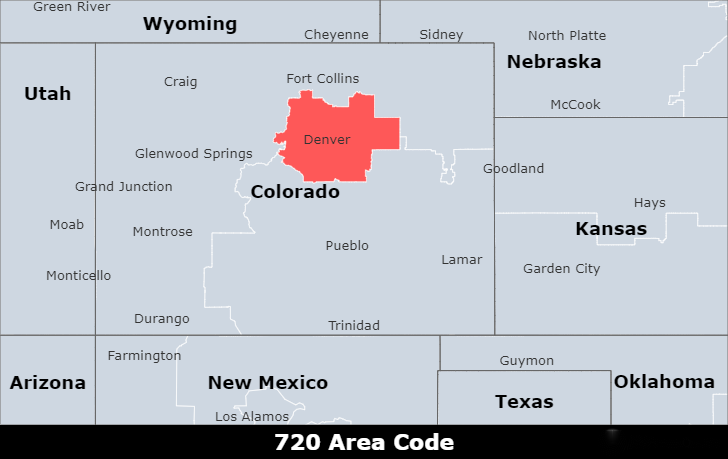 Where is area code 720 ?
Area code 720 is located in central Colorado and covers Denver, Aurora, Lakewood, Thornton, Arvada, Westminster, and Centennial. It is an overlay for area code 303 and serves the same area.
What timezone does the area code 720 belong to?
The 720 Area Code is located in the MountainTimezone.
What is the main city in area code 720?
Denver, city and county, capital of Colorado, U.S., at the western edge of the Great Plains, just east of the Front Range of the Rocky Mountains. The city and county were consolidated as a single administrative unit in 1902. Denver lies at the junction of Cherry Creek and the South Platte River. Its elevation (5,280 feet [1,609 metres] above sea level at the State Capitol), which gives it the nickname "Mile High City," and a mild, sunny, dry climate are distinctive characteristics.
Which area code is closest to 720?
303/720 (Denver, CO);
308 (Grand Island, NE);
505 (Albuquerque, NM);
575 (Las Cruces, NM);580 (Lawton, OK);
719 (Colorado Springs, CO);
970 (Fort Collins, CO);
Why do you require a memorable local vanity number for advertising?
Getting a second local number comes with a slew of advantages that make the setup procedure worthwhile:
1.At-a-glance productivity. EasyLine numbers can be used in a variety of situations. Send and receive SMS messages, as well as route calls to your personal or corporate phone lines.
2.Keep your personal and business lives separate. Many small business owners make the error of using their personal phone number for commercial purposes.
3.Use all of our features. Access our additional capabilities, such as call forwarding, SMS automation, bulk messaging, and more, by reserving a dedicated second business phone service.
4.Save money and develop your business locally. It's far less expensive to set up EasyLine numbers for local markets than it is to use established carriers.
Is it possible to request a specific phone number with the area code 720?
EasyLine provides three types of business phone numbers to meet your needs.
Get a dedicated business phone number to separate your personal and work lives!
You can complete the steps below to get a local business phone number:
Step 1: Log in to your EasyLine account.
Step 2: Request assistance from our customer service in obtaining a local phone number.
Step 3: We'll walk you through configuring your settings and configuring your local phone numbers to function the way you want them to!
Plus: Privacy and security are top of mind for us at EasyLine. End-to-end encryption provides the highest level of data security. EasyLine ensures that your call data is secure.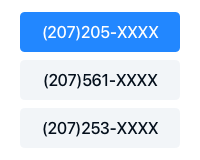 Pick a Number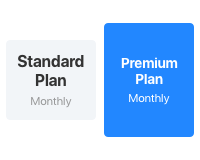 Choose a Plan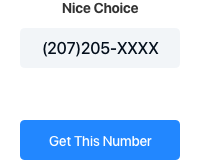 Get Started
Get a 720 area code number for your business
By publishing a phone number with any area code, you can establish a local presence anywhere.
Complete List of US and Canada Area Codes
You can look up area codes by US states and Canadian provinces. Click the specific area code link to view the details.
United States Area Code List