713 Area Code
Choose and purchase a 713 local number for marketing purposes.
Give your company a trustworthy image that will appeal to local clients.

Instant setup

No Contracts

Cancel Anytime
Brief introduction of 713 area code
When a new area code popped up to your mobile phone's screen, it is quite bothersome. One of the most frequently asked questions about area codes are: Where is the call coming from? Who is calling? Is it a spam call? Is the call associated with scammers? The area code 713 is a unique code created to serve a specific area in North America. To know more about this area code, you might wanna continue reading.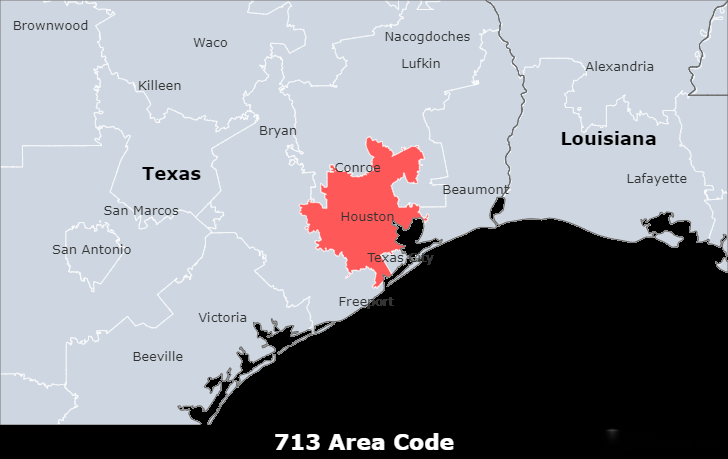 What is a 713 area code?
713 is one of the original 86 area codes created by AT&T and the Bell System in 1947. It originally served southeastern Texas including Houston. In 1996, area code 281 was created and is currently an overlay to 713. In 1999, area code 832 was created and is currently an overlay to 713.
What is the location of area code 713?
Area code 713 serves Houston, TX and the surrounding areas. It has 3 overlays (281, 346, and 832) that serve the same area.
What timezone is used for area code 713?
The 713 Area Code is located in the CentralTimezone.
What is the major city covered by area code 713?
Houston, inland port city, in Harris, Fort Bend, and Montgomery counties, that is the seat (1836) of Harris county, southeastern Texas, U.S. It is linked by the Houston Ship Channel to the Gulf of Mexico and the Intracoastal Waterway at Galveston, 50 miles (80 km) southeast. Houston is the state's most populous city and the fourth largest city in the United States. Its skyscrapers rise from the unrelievedly flat Gulf Coastal Plain, which at Houston lies at an elevation of about 55 feet (17 metres) above sea level and is dissected by a series of bayous. The region's climate is warm and humid, and the city is noted for its hot, sticky summers. In addition to Galveston, other major cities in the Houston metropolitan area include Baytown, League City, Missouri City, Pasadena, Sugar Land, and Texas City. Inc. 1837. Area 601 square miles (1,559 square km). Pop. (2000) 1,953,631; Houston–Sugar Land–Baytown Metro Area, 4,715,407; (2010) 2,099,451; Houston–Sugar Land–Baytown Metro Area, 5,946,800.
Which area codes are closest to 713?
936 (Conroe, TX);
979 (College Station, TX);281/346/713/832 (Houston, TX);
361 (Corpus Christi, TX);
409 (Beaumont, TX);
Is area code 713 a fraud?
Since there is a large number of 713 numbers being used, there is also a possibility that a scammer is using one. They introduce their selves and claims they are calling from a certain company's customer service team, so they could gain your trust. There are also scammers that charge you a fee just by connecting to the call or for calling them back. The fee may vary on how long you stayed on the line or per minute.
Are telephonic calls from 713 toll free?
The area code 713 is not a toll free number. Charges applies and the fee may vary on the plan or carrier you acquired your telecommunication services. There are plan that charges per minute, and also a premium subscription. To know more about this matter, you can ask the company or the carrier of your telecommunication services.
Why do people prefer unique vanity local phone numbers for promotions?
1. Receiving calls from anywhere in the United States and Canada. You may receive calls anywhere, anytime, and on your favorite device without being bound to a physical place. If someone in your organization is going on vacation and needs to be reached by phone but doesn't want to give out their mobile phone number, you may assign an EasyLine number to their phone.
2. Distribution of incoming calls. EasyLine phone numbers are especially advantageous for businesses with many offices. Incoming calls can be routed to phones in each office instead of ringing at one. This may be accomplished by employing an auto-attendant system, which will ring the phones of any employees who have been identified as part of the queue or group, depending on your preferences.
3. Numbers that are unique to the area. If your office is in a different region than your client base, you can give your phone line a local area code. This allows you to create a presence in a crucial market while also lowering incoming call expenses. Customers are more likely to call and answer a local number than a number with an unfamiliar area code.
4. Plenty of features. EasyLine supports customer voicemail, group broadcast, auto-reply, call forwarding, business hours, auto-attendant, call blacklist, VoIP calling, inbound caller ID, business card, tag management, and more sophisticated capabilities are available with EasyLine. It's possible that it'll fulfill your requirements.
How do I obtain a certain phone number with the area code 713?
Low-cost local numbers help reach more customers. We provide affordable phone numbers and rates to suit your needs.
1.Search for a city numbers by any area codes in North America.
2.Enter the desired 3-digit area code (example: 201).
3.Select the desired city number from the recommended results.
4.Choose your plan. There are no hidden charges. There is no long-term contract.
5.Your subscription will automatically renew. You can cancel at any time.
Plus: EasyLine provides a complete set of convenient, effective and efficient tools to help small businesses and solopreneurs manage their clients and increase engagement. Yes! Everyone could start your business without complex and costly systems!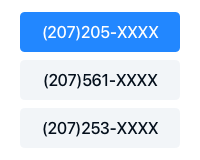 Pick a Number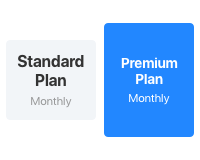 Choose a Plan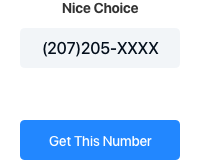 Get Started
Get a 713 area code number for your business
EasyLine gives you not only phone calls, but also other powerful features and solutions.
Complete List of US and Canada Area Codes
You can look up area codes by US states and Canadian provinces. Click the specific area code link to view the details.
United States Area Code List