707 Area Code
EasyLine provides local phone numbers throughout the United States.
EasyLine is the most effective solution for you and your clients.

Instant setup

No Contracts

Cancel Anytime
Brief introduction of 707 area code
When you receive a call from a new area code, thoughts like "Who is calling?", "Where is it coming from?", "Is the number linked with a scammer?" pops up into your mind. The 707 area code is a special code created for a specific area. Below are some frequently asked questions about the 707 area code...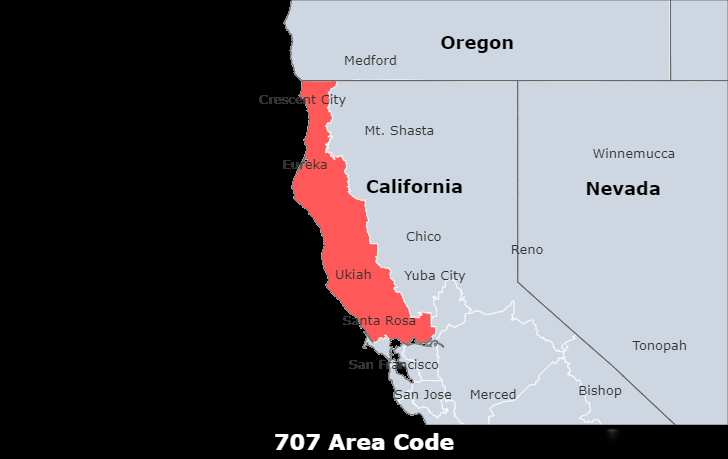 What is area code 707?
707 was first put in service January 1, 1959. It was created from area code 415.
What is the location of area code 707?
Area code 707 is located in northwestern California and covers Santa Rosa, Vallejo, Fairfield, Vacaville, and Napa. It is the only area code that serves the area.
What is the timezone of area code 707?
The 707 Area Code is located in the PacificTimezone.
What is the major city in area code 707?
Santa Rosa, city, seat (1854) of Sonoma county, western California, U.S. It is situated on Santa Rosa Creek, at the foot of the Sonoma Mountains, 50 miles (80 km) north-northwest of San Francisco. Founded in 1833 by Mariano Guadalupe Vallejo and named for St. Rose of Lima, it developed as a processing-shipping centre for agricultural produce of the Sonoma Valley. Agriculture no longer dominates the economy, which now mainly depends on retail-service industries catering to an increasing residential population. The city has been the site of several utopian-living experiments, including Fountain Grove (1885), founded by Thomas Lake Harris. The home and gardens of horticulturist Luther Burbank were given by his widow to Santa Rosa Junior College (founded 1918). The city's Church of One Tree Museum (built from a single redwood tree) honours "Believe It or Not!" creator and Santa Rosa native Robert L. Ripley. In the nearby Valley of the Moon is Jack London State Historic Park, which contains the ruins of his home, Wolf House; a museum where the writer's original manuscripts are displayed; and his grave. Also nearby are Annadel, Bothe–Napa Valley, and Sugarloaf Ridge state parks. Inc. 1868. Pop. (2010) 167,815; Santa Rosa–Petaluma Metro Area, 483,878; (2020) 178,127; Santa Rosa–Petaluma Metro Area, 488,863.
Area codes in the neighborhood
279/916 (Sacramento, CA);
415/628 (San Francisco, CA);
458/541 (Eugene, OR);
510 (Oakland, CA);530 (Redding, CA);
707 (Santa Rosa, CA);
925 (Concord, CA);
Is an area code 707 phone call a scam?
Since there are a large number of 707 used in the Northwestern California, scammers are also using this opportunity to scam people. Callers associated with scammers may also use 707 numbers and make it looked like they are calling from a company's customer service team. Some situation also appears that they could charge you just by answering the call.
Is it true that 707 number is toll free?
Calls from 707 number are not toll free, both international and local calls. The cost of the charges that may apply varies on the company that you acquired your cellular mobile and paging services. To know more about this matter, contact the telecommunication company and ask about their charges and agreements.
How can your business benefit from a local phone number?
A mobile phone with a local number is ideal for persons who:
1.Want to be contacted at all times.
2.Do not want callers to pay more costs as a result of contacting you.
3.Want to project a professional image by using a landline phone number.
4.Want to know how much anything will cost.
The following are some of the advantages of having a local phone number:
1.Be smarter: with only one device and one voicemail, you won't have to check in at home and at work.
2.Value to your consumers and business that can be measured.
How can I obtain a phone number with the area code 707?
It's easy to get a second phone number for business from EasyLine and accelerate your business growth. EasyLine provides local, toll-free, vanity service to add value and convenience for customers. Choose an area code and search our extensive database for available local phone numbers. Make your company stand out in a crowded marketplace. Steps for you to get a new number:
1.Register for a free account and log in.
2.Search for your preferred area code, e.g., 201.
3.Pick a second phone number you like (it could be local, vanity, or toll-free).
4.Select a value plan for your needs.
5.Now you can manage customer calls efficiently with a professional-looking business phone number.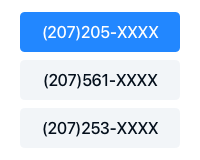 Pick a Number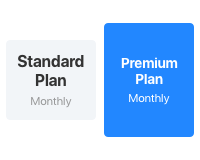 Choose a Plan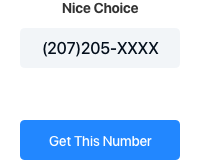 Get Started
Get a 707 area code number for your business
Get a local phone number in any city and area code in North America, and start using it instantly.
Complete List of US and Canada Area Codes
You can look up area codes by US states and Canadian provinces. Click the specific area code link to view the details.
United States Area Code List