703 Area Code
703 area code - Keep it local.
EasyLine works best for you and your customers.

Instant setup

No Contracts

Cancel Anytime
Brief introduction of 703 area code
Seeing an area code we aren't familiar with can raise all sorts of concerns. Where is it coming from? Is it a scam? Where did area code 703 originate? To put all concerns to rest, 703 is an area code encompassing the northeastern part of Virginia and its independent cities. Read on learn more about the 703 code and have your questions answered.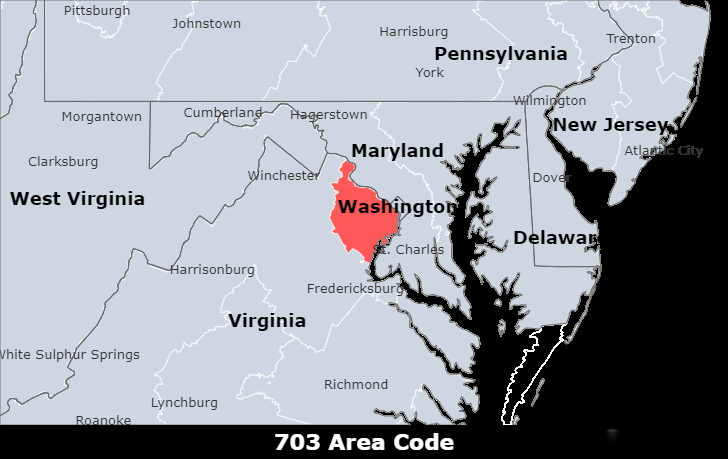 What is the 703 area code?
703 is one of the original 86 area codes created by AT&T and the Bell System in 1947. It originally served the entire state of Virginia. 703 was split in 1995 creating the need to update some of the phone numbers to area code 540. In 2000, area code 571 was created and is currently an overlay to 703.
What is the location of area code 703?
Area code 703 is located in northeastern Virginia and covers Arlington, Alexandria, Centreville, Dale City, and Reston. It has a single overlay (571) that serves the same area.
What timezone does the area code 703 belong to?
The 703 Area Code is located in the EasternTimezone.
What is the main city in area code 703?
Arlington, city, Tarrant county, northern Texas, U.S., between Fort Worth (west) and Grand Prairie and Dallas (east). Caddo Indians, the first known settlers in the region, were the victims of westward expansion. An early white settlement (1840), on an Indian council site, was called Bird's Fort. Continuing disputes between Indians and would-be settlers ultimately led to the Battle of Village Creek (1841), in which more than 200 Indian lodges were burned and the Caddo routed. The Republic of Texas in 1843 signed a peace treaty with nine Indian tribes at what is now Arlington. The city itself was laid out by railroad men in 1876 and named for General Robert E. Lee's home in Virginia.
What are some of the area codes around 703?
434 (Lynchburg, VA);
540 (Roanoke, VA);
571/703 (Arlington, VA);202 (District of Columbia);
240/301 (Germantown, MD);
410/443/667 (Baltimore, MD);
Is a call from 703 phone number toll free?
703 is not a toll free number. To obtain a 703 number, simply go to your phone service provider and purchase your 703 area code number.
What are the benefits of having a memorable local phone number for marketing?
1. Better appearance of a well-established local business. Even if your company is located abroad, having a local phone number in the neighborhood where you conduct business gives you a local presence. You could use a local business number in any area where you offer services. 
2. Come across as more professional. A business number from EasyLine is more than simply a phone number. It's a phone number that's been improved with features that give callers the idea they're contacting a company with a professional phone system, rather than a random guy's mobile phone.
3. Run your company from your Smartphone. EasyLine's numbers are designed to help your business seem professional and stay connected, making it ideal for entrepreneurs who want all of the power of a professional business phone system without the bother of telecom equipment. To put it another way, you can operate your business on your phone and seem like a Fortune 500 firm.
4. Maintain Customer Satisfaction. You can't constantly answer client calls if you're a busy startup with limited time, money, and employees. This is where EasyLine comes into play. Even if you're a one-woman show or a busy mompreneur, EasyLine will never let you miss a call because the EasyLine Auto-Attendant can answer the phone and take a message even if you're not available to chat. As a result, your consumers will have a positive experience, and you will remain organized for customer follow-ups.
5. Be remembered for a longer period of time. Customers may be greeted with a professional-brand message when they phone your EasyLine number. "Thank you for calling XXX-We provide XXX," for example, is a common greeting. Your startup may now sound as opulent as large corporations, reinforcing your brand every time a consumer calls.
6. Save money. It is not necessary to spend a lot of money to set up a competent company phone system. A number from EasyLine comes with all of the features you'll need for your business. There are no setup fees, no hardware to buy, and no extra software to install. You can sign up for a month-to-month plan for less than $10.
How can I find a second phone number for business with the area code 703?
Get a second phone number in less than 3 minutes with EasyLine! 
EasyLine provides three types of business phone numbers to meet your needs. You can set up phone numbers for your company or business within minutes, irrespective of the size of your organization.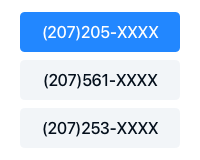 Pick a Number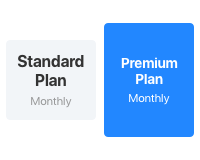 Choose a Plan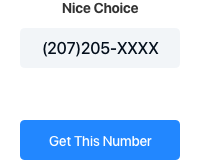 Get Started
Get a 703 area code number for your business
A local number service that stays true to brand.
Complete List of US and Canada Area Codes
You can look up area codes by US states and Canadian provinces. Click the specific area code link to view the details.
United States Area Code List