618 Area Code
All you need to know about area code 618.
Explore how to select a 618 area code phone number for your business.

Instant setup

No Contracts

Cancel Anytime
What is area code 618?
618 is one of the original 86 area codes created by AT&T and the Bell System in 1947. It originally served southern Illinois including East St. Louis and Carbondale. To avoid exhausting all possible phone numbers in this area code, relief planning has begun. It is considered, "in jeopardy" which means that it is possible that the supply of numbers could be exhausted before an overlay can be created or the area code splits.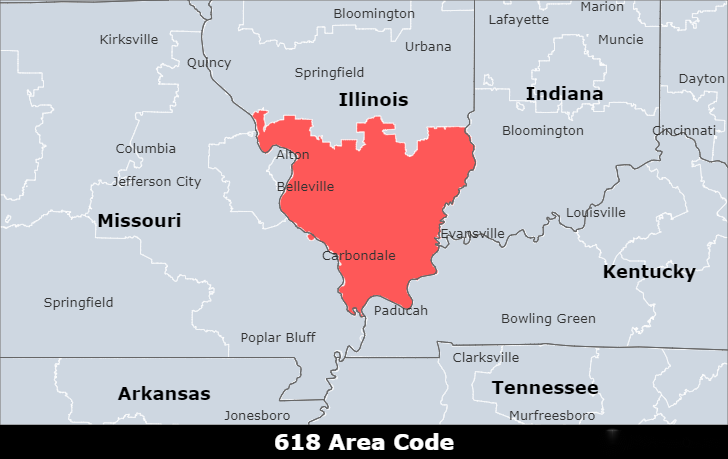 Where is area code 618 ?
Area code 618 is located in southern Illinois and covers Belleville, Granite City, and O'Fallon. It is the only area code that serves the area.
What is the timezone of area code 618?
The 618 Area Code is located in the CentralTimezone.
What is the major city in area code 618?
Belleville, city, seat (1814) of St. Clair county, southwestern Illinois, U.S. It lies east of the Mississippi River, about 16 miles (26 km) from St. Louis, Missouri.
What are some of the local codes near 618?
217 (Springfield, IL);
270/364 (Bowling Green, KY);
314 (St. Louis, MO);
573 (Columbia, MO);618 (Belleville, IL);
636 (O'Fallon, MO);
765 (Muncie, IN);
812/930 (Evansville, IN);
What is the significance of selecting a local business phone number?
1. Separate your professional and personal lives on a single phone: It is ideal for separating your professional and personal lives on a single phone.
2. The value of the area code itself: Having an area code relevant to their place of operation is critical for businesses. A renowned phone area code is incredibly precious and difficult to get.
3. Increased corporate visibility: Area codes that are easily recognised are more professional, according to research.to 73% of respondents, having a known area code makes their business look more authentic and professional.
4. Trusted by local customers: Because local numbers are more well known and dependable to potential customers, including a local phone number in your local marketing efforts is a good idea. This is especially useful if your company wants to target clients in a certain geographic area.
How can I get a 618 local business phone number?
EasyLine can provide you with a specific phone number if you request it. For professionals, freelancers, and businesses, EasyLine is a fun and powerful business phone. EasyLine streamlines your communication so you can focus on what you love, whether it's for privacy, productivity, collaboration, or just having a distinct number. EasyLine provides you with a second phone number as well as all of the communication tools you'll need to get started, work, grow, and achieve your dreams. Here are the tips for you to get a second phone number.
Step 1: Find a local number in any North American city with a specific 3-digit area code.
Step 2: From the recommended options, choose a local number that you like.
Step 3: If you haven't created an account, you may register in this step.
Step 4: Choose a value plan. There are no hidden costs. There are no long-term contracts. There will be no surprises.
Step 5: Subscribe. Your membership will automatically renew unless you cancel it, which you can do at any time.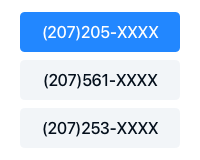 Pick a Number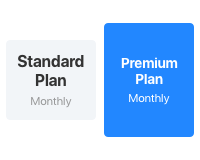 Choose a Plan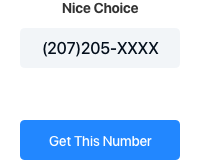 Get Started
Get a 618 area code number for your business
EasyLine lets you make free local calls within the U.S. and Canada to any phone number.
Complete List of US and Canada Area Codes
You can look up area codes by US states and Canadian provinces. Click the specific area code link to view the details.
United States Area Code List