610 Area Code
Pick a 610 area code phone number for your promotion
For branding considerations, it's important to have a memorable local number.

Instant setup

No Contracts

Cancel Anytime
What is the 610 area code?
610 was first put in service January 8, 1994. It was created from area code 215. In 1999, area code 484 was created and is currently an overlay to 610.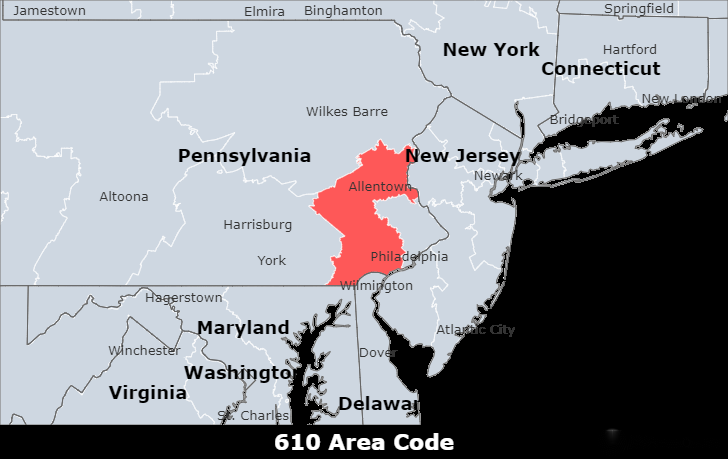 What is the location of area code 610?
Area code 610 is located in eastern Pennsylvania and covers Allentown, Reading, and Bethlehem. It has a single overlay (484) that serves the same area.
What timezone does the area code 610 belong to?
The 610 Area Code is located in the EasternTimezone.
What are some of the area codes around 610?
410/443/667 (Baltimore, MD);
484/610 (Allentown, PA);
856 (Camden, NJ);
908 (Elizabeth, NJ);215/267/445 (Philadelphia, PA);
223/717 (Lancaster, PA);
240/301 (Germantown, MD);
272/570 (Scranton, PA);
302 (Delaware);
What are the advantages of using local phone numbers for business?
Take a look at some of the key benefits of having a local phone number:
1.Local presence: By picking a local number you'll be able to give the impression that you're an established business in any UA and CA city.
2.Routing calls: All calls made to your new local phone number can be forwarded automatically to your pre-existing business number or mobile.
3.Choose your own number: Traditional phone service providers will allocate you a random number. With VoIP, you get to pick your own number – meaning you can 4.Pick from thousands of memorable numbers, making it easier for customers to remember you.
5.Marketing: You may be running a marketing campaign in a particular city that entails people to call a phone number.
Considering getting yourself a virtual phone number?
Are 610 area code phone numbers still available?
Establish your local presence with our available area code. EasyLine allows both people and businesses to get second phone numbers online.
You have the option of obtaining a new phone number in one of the following ways:
Method 1: Register on the EasyLine website and obtain a phone number via directions.
Method 2: To select a phone number and plan, download and use the EasyLin application.
Method 3: On the EasyLine website, click "Talk to sales" to contact EasyLine experts.
Method 4: Purchase a new local number with the help of our customer service through "LiveChat."
If you have any questions, feel free to contact us.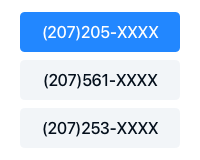 Pick a Number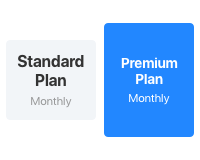 Choose a Plan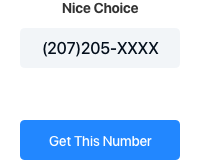 Get Started
Get a 610 area code number for your business
Get EasyLine to add value and convenience for customers.
Complete List of US and Canada Area Codes
You can look up area codes by US states and Canadian provinces. Click the specific area code link to view the details.
United States Area Code List