607 Area Code
When starting a business, why do you need a 607 area number?
By establishing a local phone number, you may establish a presence in your city.

Instant setup

No Contracts

Cancel Anytime
What is the 607 area code?
607 was first put in service January 1, 1954.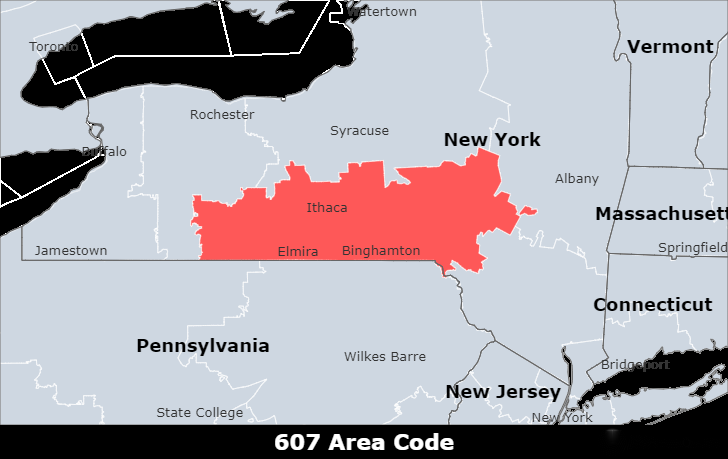 Where does area code 607 come from?
Area code 607 is located in the southern portion of central New York and covers Binghamton, Ithaca, and Elmira. It is the only area code that serves the area.
What timezone does the area code 607 belong to?
The 607 Area Code is located in the EasternTimezone.
What is the main city in area code 607?
Binghamton, city, seat (1806) of Broome county, south-central New York, U.S. It lies at the confluence of the Chenango and Susquehanna rivers, near the Pennsylvania border, 75 miles (121 km) south of Syracuse. With Johnson City and Endicott, it forms the Triple Cities. Settled in 1787 at the site of an Iroquois village (Ochenang), it was first known as Chenango Point and was later named for William Bingham, who owned land tracts on both sides of the Susquehanna. Laid out in 1800, the village prospered after the Chenango and Erie canals were linked in 1837 and the Erie Railroad arrived in 1848. Its transportation advantages encouraged industrial development. Leading manufactures of the area include photo supplies, machinery, and electronic equipment; book composition, printing, and binding also are important. Dairy, livestock, and poultry industries augment the economy. In 1946 Broome Community College and the State University of New York at Binghamton (Binghamton University) were opened. The city's Roberson Center is a museum complex (arts, science, and history) and includes a planetarium and civic theatre. Binghamton is the home of two operating wood-carved carousels from the 1920s. Inc. village, 1834; city, 1867. Pop. (2000) 47,380; Binghamton Metro Area, 252,320; (2010) 47,376; Binghamton Metro Area, 251,725.
Which area code is closest to 607?
272/570 (Scranton, PA);
289/365/905 (Hamilton, ON);
315/680 (Syracuse, NY);
518/838 (Albany, NY);585 (Rochester, NY);
607 (Binghamton, NY);
814 (Erie, PA);
845 (New City, NY);
Why do you need a local business phone number?
Investing in a local virtual phone system from a qualified service provider like EasyLine is a fantastic way to establish a strong and outstanding local presence. Here are some of the immediate perks or advantages that investing in a local number will provide for your company:
1.If you have a local number, customers in a new market will feel at ease with your company and value what you provide right away. So acquire a high-quality local phone number and watch your company's brand rating soar!
2.Customer Greetings that are personalized: Virtual phone numbers make it easier for your business to build long-term relationships with clients.
3.Some of the creative features that a local virtual phone number may provide include voicemail, call recording, auto-attendant, and business hours. These are just a few of the creative features that a local virtual phone number may provide.
Is it possible to request a specific phone number with the area code 607?
Connect with your local community by using a local number. You could easily get a new local phone number from EasyLine. EasyLine is a phone system that gives your small business a strong, scalable, and cost-effective approach to improve communications, collaboration, and productivity with customers and employees.
1.Available-On-Demand Features. Your EasyLine business phone number may offer you features like caller ID, personalized greetings, voicemail, and call forwarding, all of which can help you expand your reach, improve your responsiveness, and provide a better customer experience.
2.Scalability and dependability EasyLine's solution has been shown to be a reliable and high-performing solution for organizations of all sizes. EasyLine is designed to grow alongside organizations that need to add features for quickly expanding teams and locations.
3.A workplace that is adaptable. EasyLine provides the tools and functionality to support all sorts of working situations, whether you have several sites or remote workers. EasyLine allows you to work from anywhere, at any time, by employing features such as auto attendant and call forwarding.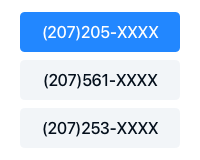 Pick a Number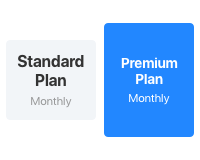 Choose a Plan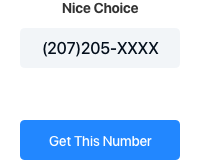 Get Started
Get a 607 area code number for your business
It takes less than 5 minutes to get started.
Complete List of US and Canada Area Codes
You can look up area codes by US states and Canadian provinces. Click the specific area code link to view the details.
United States Area Code List