540 Area Code
Contact your local customers by using the number of 540 number.
Get a permanent local phone number for your home or business.

Instant setup

No Contracts

Cancel Anytime
What is the 540 area code?
540 was first put in service July 15, 1995. It was created from area code 703. 540 was split in 2001 creating the need to update some of the phone numbers to area code 276.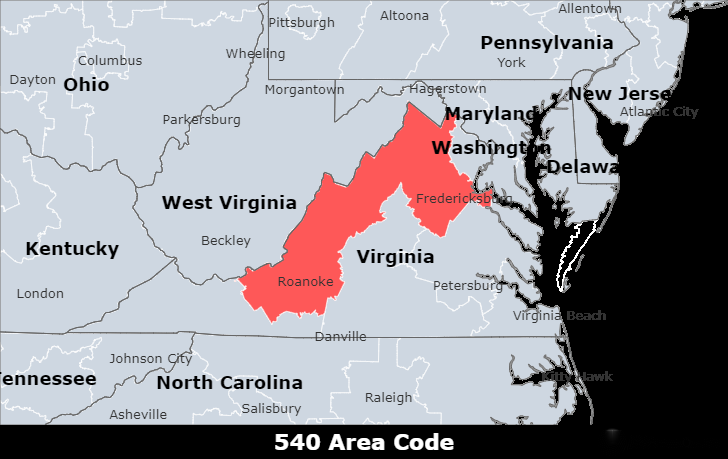 Where is area code 540 located?
Area code 540 is located in northern Virginia and covers Roanoke, Harrisonburg, and Blacksburg. It is the only area code that serves the area.
What timezone does the area code 540 belong to?
The 540 Area Code is located in the EasternTimezone.
What is the main city in area code 540?
Roanoke, city, administratively independent of, but located in, Roanoke county, southwestern Virginia, U.S. It lies on the Roanoke River, at the southern end of the Shenandoah Valley, between the Blue Ridge and Allegheny mountains, 148 miles (238 km) west of Richmond. Settled in 1740, it developed after 1882, when it became a junction of the Shenandoah Valley Railroad and the Norfolk and Western Railroad, offering an outlet for the coal deposits of Virginia and West Virginia. Chartered in 1874 it was known as the town of Big Lick but was renamed Roanoke (1882) for the Indian term for shell money or for a nearby salt marsh. Large railroad shops and offices were built, and the arrival of the Virginia Railroad, in 1906, assured further growth. Fabricated steel and textile industries were established. The expansion of truck lines and the city's location near the scenic Skyline Drive and Blue Ridge Parkway have sustained the economy. Manufactures now include railroad cars, metal and steel products, electrical equipment, clothing, chemicals, and furniture.
Which area code is closest to 540?
434 (Lynchburg, VA);
540 (Roanoke, VA);
571/703 (Arlington, VA);
757 (Virginia Beach, VA);
804 (Richmond, VA);202 (District of Columbia);
220/740 (Newark, OH);
240/301 (Germantown, MD);
276 (Bristol, VA);
304/681 (West Virginia);
410/443/667 (Baltimore, MD);
How can your business benefit from a local phone number?
1. Receiving calls from anywhere in the United States and Canada. You may receive calls anywhere, anytime, and on your favorite device without being bound to a physical place. If someone in your organization is going on vacation and needs to be reached by phone but doesn't want to give out their mobile phone number, you may assign an EasyLine number to their phone.
2. Distribution of incoming calls. EasyLine phone numbers are especially advantageous for businesses with many offices. Incoming calls can be routed to phones in each office instead of ringing at one. This may be accomplished by employing an auto-attendant system, which will ring the phones of any employees who have been identified as part of the queue or group, depending on your preferences.
3. Numbers that are unique to the area. If your office is in a different region than your client base, you can give your phone line a local area code. This allows you to create a presence in a crucial market while also lowering incoming call expenses. Customers are more likely to call and answer a local number than a number with an unfamiliar area code.
4. Plenty of features. EasyLine supports customer voicemail, group broadcast, auto-reply, call forwarding, business hours, auto-attendant, call blacklist, VoIP calling, inbound caller ID, business card, tag management, and more sophisticated capabilities are available with EasyLine. It's possible that it'll fulfill your requirements.
Is it possible to request a specific phone number with the area code 540?
There are a plethora of number service providers to select from. For small businesses, EasyLine is a good alternative. EasyLine offers a variety of services, including unlimited texts and calls, business hours, auto attendants, call forwarding, shortcuts, separate contacts, etc. Now search our extensive database for available local phone numbers you like.
Step 1: Create an account if you don't have.
Step 2: Look for a local phone number with a preferred 3-digit area code in any North American city.
Step 3: Select a local phone number that you like from the suggested options.
Step 4: Pick a cost-cutting plan. There are no additional fees to be aware of.
Note: Unless you cancel your membership, which you can do at any time, it will renew automatically.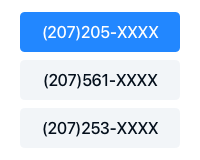 Pick a Number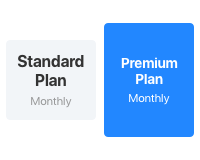 Choose a Plan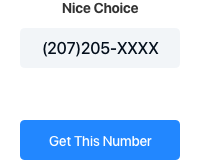 Get Started
Get a 540 area code number for your business
To make it much easier for you to get up and running.
Complete List of US and Canada Area Codes
You can look up area codes by US states and Canadian provinces. Click the specific area code link to view the details.
United States Area Code List