530 Area Code
Select and buy a 530 area code for your company.
Using our accessible area code, you could establish a local presence.

Instant setup

No Contracts

Cancel Anytime
What is a 530 area code?
530 was first put in service November 1, 1997. It was created from area code 916.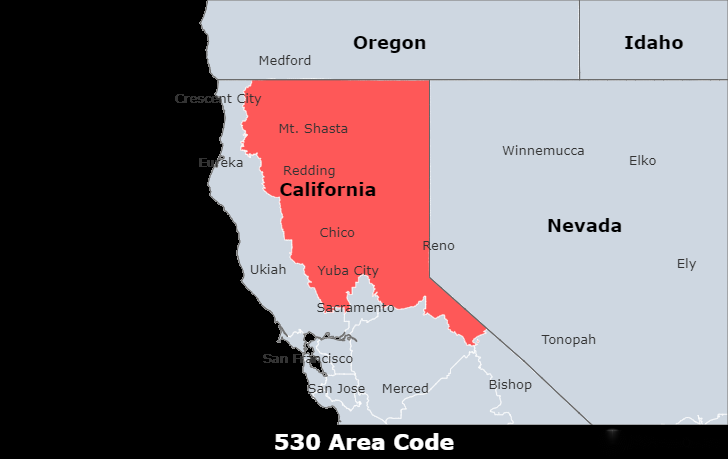 Where is area code 530 located?
Area code 530 is located in northeastern California and covers Redding, Chico, Davis, Yuba City, and Woodland. It is the only area code that serves the area.
What timezone is used for area code 530?
The 530 Area Code is located in the PacificTimezone.
What is the major city covered by area code 530?
Redding, city, seat (1888) of Shasta county, northern California, U.S. It lies in the northern Sacramento Valley. Founded (1872) on land called Poverty Flat by the California and Oregon Railroad, the city was named for B.B. Redding, a railroad land agent, and developed as a shipping point for minerals and agricultural produce. After World War II lumbering and tourism became the economic mainstays. As headquarters of the Shasta-Trinity National Forest, it became a service centre for an extensive recreational area around Shasta-Whiskeytown-Trinity lakes and dams, Trinity Alps Wilderness Area, and Lassen Volcanic National Park; Shasta Dam (built 1938–45) is the country's second-largest and second-tallest concrete dam. The Redding Museum of Art and History features ethnographic, historical, and fine arts exhibitions. Redding is the seat of a community college (1948) that has several branches. The old mining ghost town of Shasta, preserved within Shasta State Historic Park, is 6 miles (10 km) west. Lake Shasta Caverns are 10 miles (16 km) north of Shasta Dam. Inc. 1887. Pop. (2000) 80,865; Redding Metro Area, 163,256; (2010) 89,861; Redding Metro Area, 177,223.
What are some area codes near 530?
209 (Stockton, CA);
279/916 (Sacramento, CA);
415/628 (San Francisco, CA);
442/760 (Oceanside, CA);
458/541 (Eugene, OR);510 (Oakland, CA);
530 (Redding, CA);
707 (Santa Rosa, CA);
775 (Reno, NV);
925 (Concord, CA);
What are the benefits of having a memorable local phone number for marketing?
A mobile phone with a local number is ideal for persons who:
1.Want to be contacted at all times.
2.Do not want callers to pay more costs as a result of contacting you.
3.Want to project a professional image by using a landline phone number.
4.Want to know how much anything will cost.
The following are some of the advantages of having a local phone number:
1.Be smarter: with only one device and one voicemail, you won't have to check in at home and at work.
2.Value to your consumers and business that can be measured.
How to get a 530 area code business phone number?
EasyLine is the way to go if you want to get a local phone number for the greatest price and service in any city in the United States or Canada.
In less than 3 minutes, you may have a second phone number for your business with EasyLine! Now choose a number that you prefer, and offer your business a trustworthy image that local customers will love.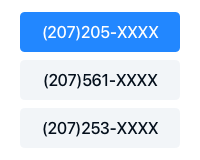 Pick a Number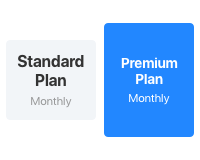 Choose a Plan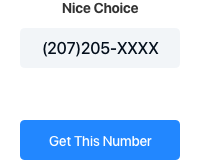 Get Started
Get a 530 area code number for your business
EasyLine provides second phone numbers that route to your cell phone to keep your personal number private.
Complete List of US and Canada Area Codes
You can look up area codes by US states and Canadian provinces. Click the specific area code link to view the details.
United States Area Code List