507 Area Code
Almost anything you could want to know about 507 area code.
Discover how to gain a local mobile number with area code 507 for your business.

Instant setup

No Contracts

Cancel Anytime
What is area code 507?
507 was first put in service January 1, 1954.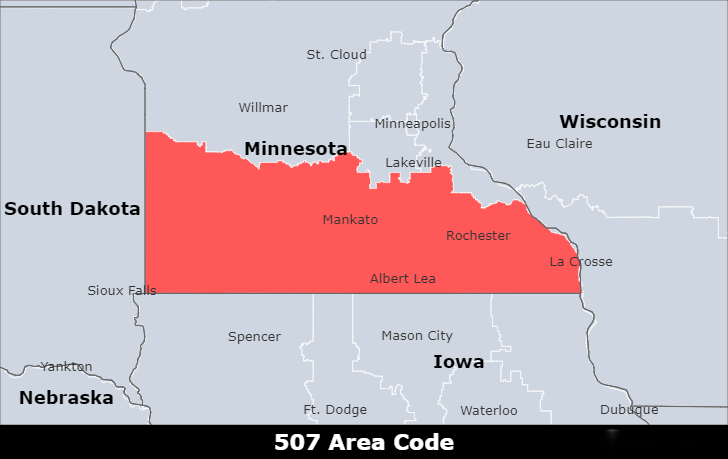 Where does area code 507 come from?
Area code 507 is located in southern Minnesota and covers Rochester, Mankato, and Winona. It is the only area code that serves the area.
What is the timezone of area code 507?
The 507 Area Code is located in the CentralTimezone.
What is the major city in area code 507?
Rochester, city, seat of Olmsted county, southeastern Minnesota, U.S. It lies on the Zumbro River and on several creeks in a mixed-farming region about 75 miles (120 km) southeast of Minneapolis. The site, which originally served as a camping ground for wagon trains and later as a stagecoach and rail centre, was settled in 1854 and named for Rochester, New York, by George Head, an early settler who had lived there for a time. Rochester's growth was stimulated in 1889 by the opening by William Worrall Mayo and his sons (see Mayo family) of what would evolve into the Mayo Medical Center, and it is now one of the state's largest cities. Severe flooding in 1978 prompted a flood-control project that continued into the 1990s.
What are some of the local codes near 507?
608 (Madison, WI);
612 (Minneapolis, MN);
641 (Mason City, IA);
651 (St. Paul, MN);
712 (Sioux City, IA);
952 (Bloomington, MN);320 (St. Cloud, MN);
507 (Rochester, MN);
515 (Des Moines, IA);
534/715 (Eau Claire, WI);
563 (Davenport, IA);
605 (South Dakota);
There are key advantages to using a local phone number to start a business
A local number allows you to generate a phone number for a certain region, city, or state. EasyLine gives you the option of selecting various local numbers for your business. It's the quickest and simplest method.
1.Establish a presence in numerous cities by adding extra local phone numbers.
2.Give your company a trustworthy vibe that will appeal to local clients.
3.Prospects and consumers are more likely to respond to local phone numbers. 
4.Keep your business and personal lives separate, even if you're using the same phone.
How can I get a 507 local business phone number?
EasyLine has a large inventory of local, toll free and vanity numbers. Browse our inventory online and find your new business number! It's so easy! We recommend you try EasyLine. It's quick, easy, and it comes with a plethora of features.
By establishing a local phone number, you may establish a presence in your city.
What is the best way to acquire a second phone number with EasyLine?
Method 1: Register on the EasyLine website and follow the on-screen instructions to obtain a phone number.
Method 2: Download the EasyLine app and choose a phone number and a plan.
Method 3: Contact our experts through "Talk to Sales".
Method 4: Contact our customer service to purchase a second local number through "LiveChat."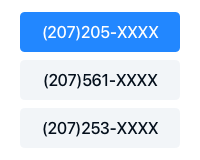 Pick a Number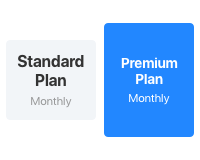 Choose a Plan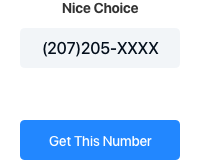 Get Started
Get a 507 area code number for your business
It's easy to get your own number right on your phone.
Complete List of US and Canada Area Codes
You can look up area codes by US states and Canadian provinces. Click the specific area code link to view the details.
United States Area Code List