484 Area Code
Select a 484 area code phone number for your marketing
For branding purposes, choosing a memorable local vanity number is helpful.

Instant setup

No Contracts

Cancel Anytime
What is the 484 area code?
484 was first put in service June 5, 1999. It was created from area code 610.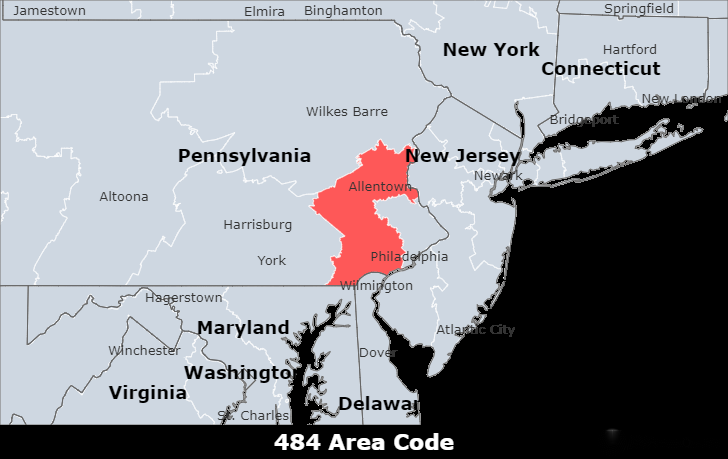 Where is area code 484 located?
Area code 484 is located in eastern Pennsylvania and covers Allentown, Reading, and Bethlehem. It is an overlay for area code 610 and serves the same area.
What timezone does the area code 484 belong to?
The 484 Area Code is located in the EasternTimezone.
What are some of the area codes around 484?
215/267/445 (Philadelphia, PA);
223/717 (Lancaster, PA);
240/301 (Germantown, MD);
272/570 (Scranton, PA);
302 (Delaware);410/443/667 (Baltimore, MD);
484/610 (Allentown, PA);
856 (Camden, NJ);
908 (Elizabeth, NJ);
Are there any scams from area code 484?
It is very rare for scammers to use non-toll-free area codes. Most of the time numbers with the 484-area code are legit businesses and people. However, you must be vigilant nowadays. It is recommended that you do not share any personal information, bank account information, or any other critical data about yourself with unknown callers.
The benefits of using a vanity local phone number for your business
Local phone numbers give your company a legitimate presence in particular target areas and make it more accessible to people in both local and international locations. Some of the benefits are as follows:
1. Establishing a local presence in a specific city
2. Keeping a record of marketing efforts
3. Customers will be able to enter the store quickly.
4. Increasing your company's efficiency.
Above all, local phone numbers are a low-cost way to grow a company.
Are 484 area code phone numbers still available?
EasyLine will provide you with a second phone number in just 3 minutes! EasyLine for business is a suitable option for small firms, sole proprietors, and freelancers.
Regardless of your organization's size, you may set up phone lines in minutes.
1.Create an EasyLine account for free.
2.Enter your phone number and password to gain access.
3.Choose and obtain your second phone number, as well as your selected area code (or buy a toll-free number).
Plus: EasyLine gives you not only phone calls, but also other powerful features, to get you up and running much easier. EasyLine will support your business needs as you grow.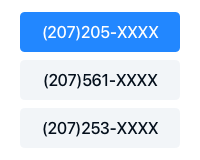 Pick a Number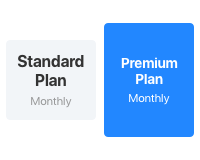 Choose a Plan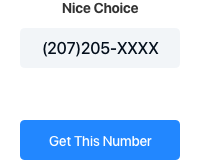 Get Started
Get a 484 area code number for your business
Increase your reach and promote a local presence across the country.
Complete List of US and Canada Area Codes
You can look up area codes by US states and Canadian provinces. Click the specific area code link to view the details.
United States Area Code List