469 Area Code
Do you know the benefits of 469 area code?
Get a 469 vanity local number. Make your brand stand out in the crowd.

Instant setup

No Contracts

Cancel Anytime
Brief introduction of 469 area code
The 469 area code along with its overlays of 214 and 972 serving the Dallas-Forth Worth metroplex. 469 in particular was introduced on the first of July 1999 for the eastern Metroplex. Read below for more information regarding the 469 area code and all you need to know about it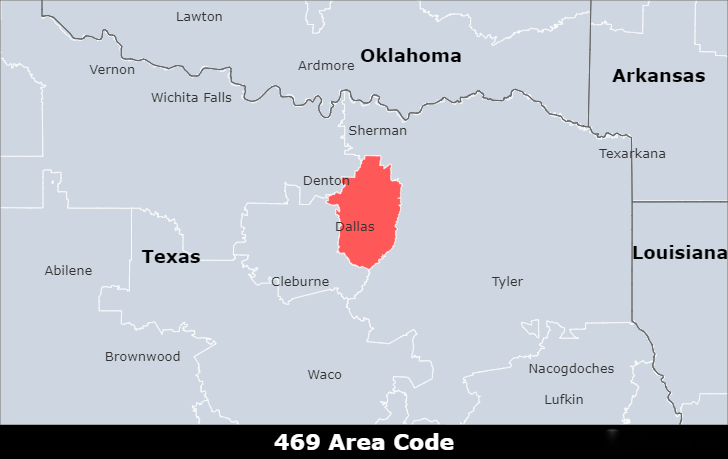 What is the 469 area code?
469 was first put in service July 1, 1999. It was created from area code 214. To avoid exhausting all possible phone numbers in this area code, relief planning has begun.
What is the location of area code 469?
Area code 469 serves Dallas, TX and the surrounding areas. It is an overlay for area code 214 and serves the same area.
What timezone does the area code 469 belong to?
The 469 Area Code is located in the CentralTimezone.
What is the main city in area code 469?
Dallas, city, Dallas, Collin, Denton, Rockwell, and Kaufman counties, seat (1846) of Dallas county, north-central Texas, U.S. It lies along the Trinity River near the junction of that river's three forks, in a region of prairies, tree-lined creeks and rivers, and gentle hills. Its winters are mild with brief cold spells, but summers are hot with moderate to high humidity. Dallas is the state's third most populous city (after Houston and San Antonio) and the metropolis of the sprawling Dallas–Fort Worth urban area, known locally as the Metroplex. Fort Worth lies 30 miles (48 km) west; other major cities in the metropolitan region include Arlington, Carrollton, Denton, Garland, Grand Prairie, Irving, Lewisville, Mesquite, Plano, Richardson, and University Park. Dallas has a council-manager form of government that was established there in 1931. Inc. town, 1856; city, 1871. Area city, 385 square miles (997 square km). Pop. (2000) 1,188,580; Dallas-Plano-Irving Metro Division, 3,451,226; Dallas–Fort Worth–Arlington Metro Area, 5,161,544; (2010) 1,197,816; Dallas-Plano-Irving Metro Division, 4,235,751; Dallas–Fort Worth–Arlington Metro Area, 6,371,773.
What area codes are nearby 469?
214/469/972 (Dallas, TX);
254 (Killeen, TX);
430/903 (Tyler, TX);682/817 (Fort Worth, TX);
940 (Denton, TX);
Is a call from 469 phone number toll free?
No, 469 is not a toll free number. Toll free numbers do not have a particular location to which they are assigned unlike 469 which is for the Dallas-Fort Worth Metroplex in Texas.
What are the benefits of having a local phone number?
1. According to studies, consumers are more likely to call a business with a local phone number because they feel a local firm is more likely to provide personalised service. For example, a real estate agent with a local area code may be more enticing to potential customers since their company number displays an understanding of local nuances. To emphasise that your firm is a local one that prospects and customers can trust, use a local phone number.
2. Compete with large corporations: Using a local phone number may give you a substantial edge over non-local or national competitors if the service your company provides benefits from seeming to be a local enterprise.
3. Save money as your company grows: It can be expensive to open physical stores in all of the regions where you want to do business. EasyLine allows you to acquire several local lines without the cost or hassle of setting up additional office locations. Your business may be national, yet it has a local flavour.
How to get a specific phone number with 469 area code?
Low-cost local numbers help reach more customers. We provide affordable phone numbers and rates to suit your needs.
1.Search for a city numbers by any area codes in North America.
2.Enter the desired 3-digit area code (example: 201).
3.Select the desired city number from the recommended results.
4.Choose your plan. There are no hidden charges. There is no long-term contract.
5.Your subscription will automatically renew. You can cancel at any time.
Plus: EasyLine provides a complete set of convenient, effective and efficient tools to help small businesses and solopreneurs manage their clients and increase engagement. Yes! Everyone could start your business without complex and costly systems!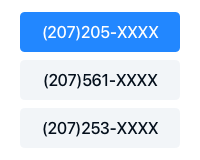 Pick a Number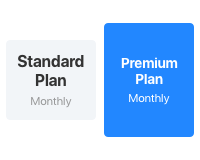 Choose a Plan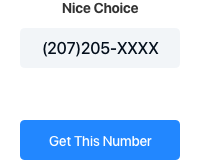 Get Started
Get a 469 area code number for your business
EasyLine is your one-stop shop for call management.
Complete List of US and Canada Area Codes
You can look up area codes by US states and Canadian provinces. Click the specific area code link to view the details.
United States Area Code List