402 Area Code
You may get your firm off to a strong start by using 402 area code.
Connect with your local community by using a local number.

Instant setup

No Contracts

Cancel Anytime
What is a 402 area code?
402 is one of the original 86 area codes created by AT&T and the Bell System in 1947. It originally served the entire state of Nebraska. In 2011, area code 531 was created and is currently an overlay to 402.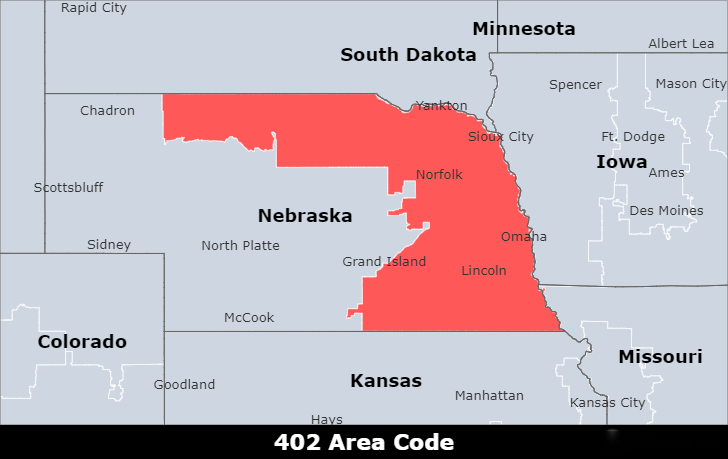 Where is area code 402 located?
Area code 402 is located in northern and eastern Nebraska and covers Omaha, Lincoln, and Bellevue. It has a single overlay (531) that serves the same area.
What timezone is used for area code 402?
The 402 Area Code is located in the CentralTimezone.
What is the major city covered by area code 402?
Omaha, city, seat (1855) of Douglas county, eastern Nebraska, U.S. It is situated on the west bank of the Missouri River opposite Council Bluffs, Iowa. Omaha is Nebraska's biggest city and a regional manufacturing, transportation, trade, and service hub. From the 1890s through the mid-20th century Omaha emerged as one of the top livestock markets in the world and a leader in the meat-processing industry. Founded in 1854, it soon became known as a "gateway to the West." Omaha's location near the juncture of the Platte and Missouri rivers provides access to the wide, flat valley of the Platte, which has become a vital transportation artery. The city derives its name from the Omaha Indian word meaning "upstream people." Inc. town, 1854; city, 1857. Area city, 115 square miles (298 square km). Pop. (2010) 408,958; Omaha–Council Bluffs Metro Area, 865,350;(2020) 486,051; Omaha–Council Bluffs Metro Area, 967,604.
What are the closest area codes to 402?
712 (Sioux City, IA);
785 (Topeka, KS);
970 (Fort Collins, CO);308 (Grand Island, NE);
402/531 (Omaha, NE);
605 (South Dakota);
660 (Sedalia, MO);
Why do you need a vanity local phone number that is one-of-a-kind for marketing?
1.MAKE CALLS TO ANYWHERE. With EasyLine you can receive calls and make calls. Set your caller ID to enhance your privacy or easily identify customers calling you.
2.GET A LOCAL PRESENCE. Give your small business a local presence by choosing a number from EasyLine's powerful number search.
3.USE ANY PHONE. EasyLine works with any regular phone. Your contacts don't need to dial any confusing codes or numbers to reach you. It's just like a local number.
How do I get a 402 local number for business?
Get a custom phone number (local or toll-free) or port your own, for unlimited talk calling and texting, and powerful features to make your business stand out no matter where you are in the United States or Canada. When you call or text customers in the app, they see your business phone number. When they call or text you, it's clear what's a business call, so you can choose when to work, when to relax, and always sound great to customers.
Advantages are as follows:
1.Establish a solid presence in a new market.
2.Say goodbye to additional hardware costs and installation charges.
3.Eliminate risks and be assured of privacy.
Now buy local phone numbers and build a rapport with native customers.
Method 1. Sign up on EasyLine Website and get a number by instructions.
Method 2. Download EasyLine app to select a number and plan.
Method 3. Contact our sales by clicking "Talk to sales" on EasyLine website.
Method 4. Buy a second local number with the help of our customer service by clicking "LiveChat" on EasyLine website.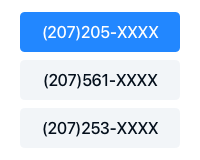 Pick a Number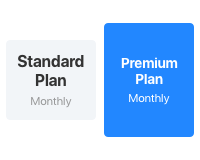 Choose a Plan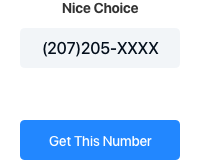 Get Started
Get a 402 area code number for your business
Another way to score a secondary line is through EasyLine. 
Complete List of US and Canada Area Codes
You can look up area codes by US states and Canadian provinces. Click the specific area code link to view the details.
United States Area Code List