380 Area Code
Start your business with 380 area code.
We have phone numbers available all throughout the US and Canada.

Instant setup

No Contracts

Cancel Anytime
What is area code 380?
380 was first put in service February 27, 2016. It was created from area code 614.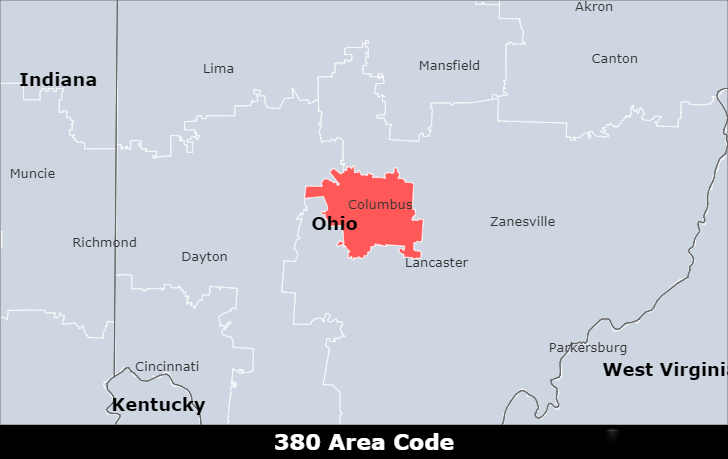 Where is area code 380 located?
Area code 380 serves Columbus, OH and the surrounding areas. It is an overlay for area code 614 and serves the same area.
What is the timezone of area code 380?
The 380 Area Code is located in the EasternTimezone.
What is the major city in area code 380?
Columbus, city, Franklin, Fairfield, and Delaware counties, capital (1816) of Ohio, U.S., and seat (1824) of Franklin county. It is situated in the central part of the state on the relatively flat Ohio till plain, at the junction of the Scioto and Olentangy rivers. Columbus is at the centre of a metropolitan complex that includes Dublin (northwest), Gahanna and Westerville (northeast), Reynoldsburg (east), and Grove City (southwest); several municipalities, including Upper Arlington, Worthington, Bexley, and Whitehall, are wholly or largely surrounded by the city. Inc. city, 1834. Area city, 213 square miles (552 square km). Pop. (2010) 787,033; Columbus Metro Area, 1,836,536; (2020) 905,748; Columbus Metro Area, 2,138,926.
What are the area codes near 380?
220/740 (Newark, OH);
380/614 (Columbus, OH);937 (Dayton, OH);
What can a local phone number do for your business?
Getting a second local number has many benefits that make the setup process well worth it:
1.Productivity on the move. EasyLine numbers can be used anywhere. Send and receive SMS or forward calls to your mobile phone or business numbers.
2.Separate personal & professional life. Many small business owners make the mistake of using their personal number for professional needs.
3.Access all our features. Reserve a dedicated second business phone service and access our other features, including call forwarding, SMS automation, bulk texting, and more.
4.Save money and expand locally. Setting up EasyLine numbers for local markets is a lot cheaper than using traditional carriers.
How can I obtain a 380 local phone number?
For consumers in various locations, EasyLine offers a range of phone numbers.
You can get a specific phone number by requesting it from EasyLine. EasyLine is a delightful and powerful business phone for professionals, freelancers, and companies. Whether it's for privacy, productivity, collaboration, or just a separate number, EasyLine streamlines your communication so you can focus on what you love. EasyLine gives you a 2nd number with all the communication tools you need to start, work, grow, and pursue your passion. You can get a local business phone number from EasyLine in following steps:
Step 1. Search a local number in any city and area code in North America. Enter your preferred 3-digit area code, e.g. 201
Step 2. Select a Local Number You Like from recommended results.
Step 3. If you haven't logged in your account, you have to sign in, then continue the next operation.
Step 4. Choose your plan. No hidden fees. No long term contracts. No surprises.
Step 5. Subscribe. Your subscription is auto-renewing until you cancel, you may cancel it anytime.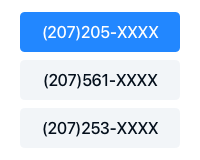 Pick a Number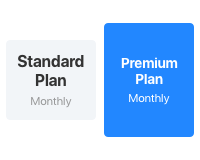 Choose a Plan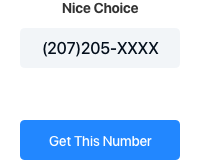 Get Started
Get a 380 area code number for your business
Without the need for an extra SIM card, get a second number.
Complete List of US and Canada Area Codes
You can look up area codes by US states and Canadian provinces. Click the specific area code link to view the details.
United States Area Code List