323 Area Code
Use 323 Area Code area code to contact your local consumers.
Get a local phone number for your house or company that is permanent.

Instant setup

No Contracts

Cancel Anytime
Brief introduction of 323 area code
Area code 323 is one of the two area codes for Los Angeles, the other being 213. This bustling city is the land of entertainment, glamour and business and is undoubtedly the biggest, most populated area in the Pacific Time Zone. 323 was split off of 213-one of the original area codes-in 1998 and along with 310 continue to serve the Los Angeles Area. Read below for more information about 323 area code.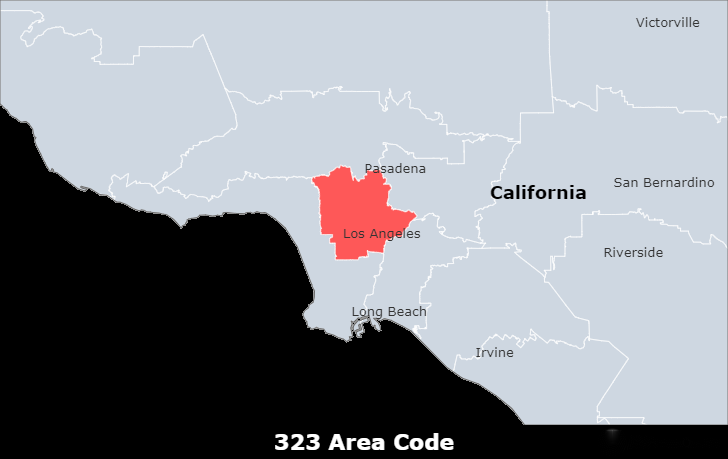 What is the 323 area code?
323 was first put in service June 13, 1998. It was created from area code 213.
Where is area code 323?
Area code 323 serves part of Los Angeles, CA and the surrounding areas. It is an overlay for area code 213 and serves the same area.
What timezone does the area code 323?
The 323 area code is located in the Pacific timezone. The Pacific time zone is also known as America/Los_Angeles.
What is the major city in area code 323?
Los Angeles , city, seat of Los Angeles county, southern California, U.S. It is the second most populous city and metropolitan area (after New York City) in the United States. The city sprawls across a broad coastal plain situated between mountains and the Pacific Ocean; the much larger Los Angeles county, which encompasses the city, contains some 90 other incorporated cities, including Beverly Hills, Pasadena, and Long Beach. The county also encompasses two of the Channel Islands, Santa Catalina and San Clemente; Mount San Antonio, familiarly known as Mount Baldy or Old Baldy, 10,046 feet (3,062 metres) high; more than 900 square miles (2,330 square km) of desert; and 75 miles (120 km) of seacoast.
What are the closest area codes to 323?
213/323 (Los Angeles, CA);
310/424 (Los Angeles, CA);
442/760 (Oceanside, CA);
562 (Long Beach, CA);
Is area code 323 a fraud?
The areas nowadays that 323 and 213 serve include Alhambra, Bell, Bell Gardens, Beverly Hills, Commerce, City Terrace, Cudahy, East L.A, Florence, Florence- Graham, Hawthorne, Huntington Park, Inglewood, Ladera Heights, West Hollywood, Los Angeles, Boyle Heights, Chinatown, Crenshaw, Downtown, Eagle Rock, Echo Park, El Sereno, Exposition Park, Hermon, Highland Park, Hermon, Highland Park, Hollywood, Hyde Park, Koreatown, Lincoln Heights, Los Feliz, South Central, Silver Lake, Watts, Westlake, Lynwood, Maywood, Montebello, Monterey Park, Pasadena, Rosemead, South Gate, South Pasadena, Vernon, View Park Windsor Hills, Walnut Park, West Athens, Westmont.
Are 323 numbers toll free, or not?
No, area code 323 is not toll free.
What are the advantages of using local phone numbers for business?
1. Keep your work and personal lives separate on one phone - It's the ideal approach to keep your work and personal lives separate on one phone.
2. The value of the area code itself: For companies, having an area code that is appropriate to their location is crucial. A well-known phone area code is extremely valuable and difficult to get.
3. Greater corporate visibility: According to studies, easy-to-recognize area codes are perceived as more professional. Having a well-known area code, according to 73% of respondents, makes their company appear more genuine and professional.
4. Local clients trust local numbers: Including a local phone number in your local marketing efforts is a smart idea because local numbers are more well-known and reliable to potential customers. This is especially handy if your business wishes to target consumers in a certain location.
How to find an available phone number with 323 area code?
Give your company a trustworthy vibe that will appeal to local customers. EasyLine provides local phone numbers all over the country.
EasyLine was created to make it easier for you to communicate more effectively. By simply interacting with customers, you can easily engage with customers, stay relevant, grow your business, and establish your brand identity. Keep your professional and personal lives separate by getting a dedicated business phone number. Keep track of all incoming and outgoing business calls, messages, and voicemails.
If you want to get a local phone number for the best price, EasyLine is the way to go.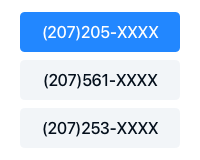 Pick a Number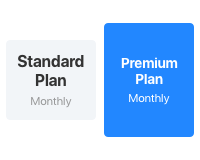 Choose a Plan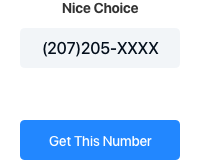 Get Started
Get a 323 area code number for your business
Manage business calls from your smartphone and work from anywhere.
Complete List of US and Canada Area Codes
You can look up area codes by US states and Canadian provinces. Click the specific area code link to view the details.
United States Area Code List