301 Area Code
What does choosing a 301 Area Code business phone number imply?
A unique vanity local phone number could boost your sales and leads.

Instant setup

No Contracts

Cancel Anytime
Brief introduction of 301 area code
It can be very disturbing at the same time intriguing when someone with unfamiliar number is calling your phone. This will cause your curiosity to spike and would think the need of calling them back. Below are the most common questions and what you need to know about area code 301.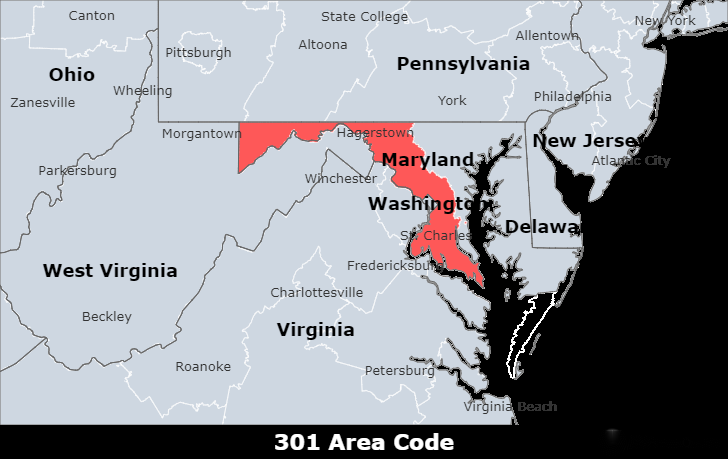 What is area code 301?
301 is one of the original 86 area codes created by AT&T and the Bell System in 1947. It originally served the entire state of Maryland. In 1997, area code 240 was created and is currently an overlay to 301.
Where is area code 301?
Area code 301 is located in western Maryland and covers Germantown, Silver Spring, Waldorf, Frederick, and Rockville. It has a single overlay (240) that serves the same area.
What is the timezone of area code 301?
The 301 area code is located in the Eastern timezone. The Eastern time zone is also known as America/New_York.
What is the major city in area code 301?
Germantown, historic residential section of Philadelphia, Pennsylvania, U.S., extending for more than a mile along Germantown Avenue (formerly High Street). The site was first settled by German Pietists led by Francis Daniel Pastorius in 1683, and the development of handicraft industries (weaving, tanning, and wagon building) led to prosperity. There William Rittenhouse built (1690) the first paper mill in the British colonies; Christopher Sower and his son established one of the colonies' largest printing presses (1738) and printed America's first European-language Bible (1743); and Jacob Bey, an employee of Sower, was the first colonial manufacturer of printed type. On October 4, 1777, George Washington's Continental Army unsuccessfully fought the Battle of Germantown in an effort to break the defenses of British-occupied Philadelphia.
What area codes are nearby 301?
202 (District of Columbia);
223/717 (Lancaster, PA);
240/301 (Germantown, MD);
304/681 (West Virginia);
410/443/667 (Baltimore, MD);
434 (Lynchburg, VA);
484/610 (Allentown, PA);
Is area code 301 a scam?
Even if the area code is duly registered to the NANP, there is still a possibility that calls originating from area code 301 is linked with scammers. There's a great chance that the call you are about to answer could be from a scammer. It could look like ordinary like it is coming from the same state you are in, but the truth of the matter is, it's actually an international call. Looks can be deceiving so better be careful about it.
Are telephonic calls from 301 toll free?
No, area code 301 is not toll free.
Why is it important to have a memorable local number for marketing?
1. On-Demand Functions. From caller ID, personalized greetings, and voicemail to call forwarding, your EasyLine business phone number may provide you with features that will help you to expand your reach, respond faster, and provide a better customer experience.
2.Scalability and dependability. EasyLine's solution has been shown to be dependable in terms of uptime and performance for organizations of all sizes. EasyLine was designed to grow alongside organizations that need to add features for fast-expanding teams and new locations.
3.A Workplace That Is Versatile. EasyLine provides the tools and functionality to support all sorts of working situations, whether you have several sites or scattered remote workers. EasyLine enables you to work from anywhere, at any time by utilizing auto attendant, call forwarding, and other features.
What is the procedure for obtaining a 301 local phone number?
EasyLine offers a choice of phone numbers to consumers in various locations. You may select an extraordinary local number in any city or area code in North America and start using it right away with EasyLine. Begin by establishing trust and loyalty with an EasyLine local phone number.
Method 1: Register on the EasyLine website and follow the on-screen instructions to obtain a phone number.
Method 2: Download the EasyLine app to choose a phone number and a value plan.
Method 3: Contact our sales team by going to the EasyLine website and choosing "Talk to sales."
Method 4: Purchase a second local number with the assistance of our customer support by visiting the EasyLine website and choosing "LiveChat."
Plus: EasyLine is not just a phone system either, effective industry solutions, intelligent call routing, multi marketing solutions, customer management——all in one application.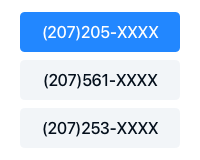 Pick a Number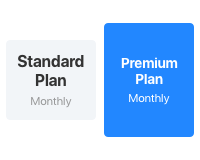 Choose a Plan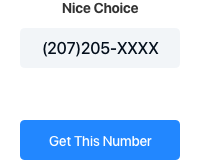 Get Started
Get a 301 area code number for your business
You can get a specific phone number by requesting it from EasyLine.
Complete List of US and Canada Area Codes
You can look up area codes by US states and Canadian provinces. Click the specific area code link to view the details.
United States Area Code List