281 Area Code
Do you know the benefits of 281 area code?
Get a 281 vanity local number. Make your brand stand out in the crowd.

Instant setup

No Contracts

Cancel Anytime
What is a 281 area code?
281 was first put in service November 2, 1996. It was created from area code 713.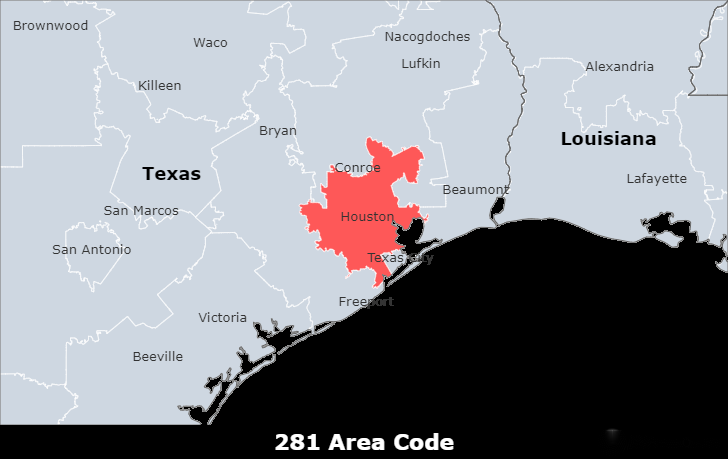 Where does area code 281 come from?
Area code 281 serves Houston, TX and the surrounding areas. It is an overlay for area code 713 and serves the same area.
What timezone is used for area code 281?
The 281 Area Code is located in the CentralTimezone.
What is the major city covered by area code 281?
Houston, inland port city, in Harris, Fort Bend, and Montgomery counties, that is the seat (1836) of Harris county, southeastern Texas, U.S. It is linked by the Houston Ship Channel to the Gulf of Mexico and the Intracoastal Waterway at Galveston, 50 miles (80 km) southeast. Houston is the state's most populous city and the fourth largest city in the United States. Its skyscrapers rise from the unrelievedly flat Gulf Coastal Plain, which at Houston lies at an elevation of about 55 feet (17 metres) above sea level and is dissected by a series of bayous. The region's climate is warm and humid, and the city is noted for its hot, sticky summers. In addition to Galveston, other major cities in the Houston metropolitan area include Baytown, League City, Missouri City, Pasadena, Sugar Land, and Texas City. Inc. 1837. Area 601 square miles (1,559 square km). Pop. (2000) 1,953,631; Houston–Sugar Land–Baytown Metro Area, 4,715,407; (2010) 2,099,451; Houston–Sugar Land–Baytown Metro Area, 5,946,800.
What are some area codes near 281?
281/346/713/832 (Houston, TX);
361 (Corpus Christi, TX);
409 (Beaumont, TX);936 (Conroe, TX);
979 (College Station, TX);
The key benefits of using a local business phone number
1.Getting local phone numbers can help your business become more reachable and accessible to your customers across the world.
2.Local phone numbers give your business an authentic presence in particular target markets and make your company more accessible to individuals in local and international areas.
3.Benefits include: creating a local presence, tracking marketing efforts, easy access for your customers, and streamlining your business. Local phone numbers are a cost-effective business expansion tool.
How to get a 281 area code business phone number?
EasyLine features a vast selection of toll-free and local phone numbers. Browse our online inventory to find your new business number! It's really simple! We hope you to give EasyLine a go. It's quick and simple to use, and it has a variety of features.
It's necessary to choose a memorable local vanity number for your business branding. You could follow the tips to get a new number.
—On EasyLine website:
Step 1: Select an area code and a distinctive phone number for your company.
Step 2: Subscribe a plan. There is no hardware required. There are no long-term contracts.
Step 3: Get the EasyLine application (from the Apple Store or Google Play).
Step 4: Log in EasyLine App.
—On App Store or Google Play:
Step 1: Go to the App Store or Google Play and search for "EasyLine."
Step 2: Register for a new account.
Step 3: Experience during free trial period to evaluate the quality of our service .
Step 4: We will provide you with the best service at no additional cost.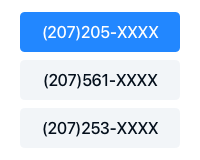 Pick a Number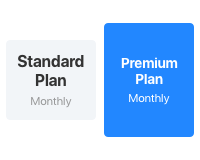 Choose a Plan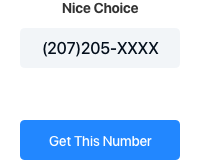 Get Started
Get a 281 area code number for your business
It takes less than 5 minutes to get started.
Complete List of US and Canada Area Codes
You can look up area codes by US states and Canadian provinces. Click the specific area code link to view the details.
United States Area Code List