269 Area Code
Make your business stand out from the crowd with 269 area code number.
Prospects and customers are more likely to answer local numbers.

Instant setup

No Contracts

Cancel Anytime
What is the 269 area code?
269 was first put in service July 13, 2002. It was created from area code 616.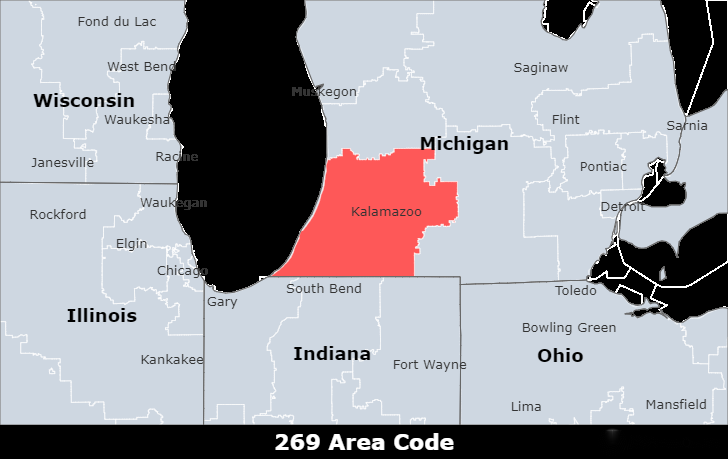 What is the location of area code 269?
Area code 269 is located in southwestern Michigan and covers Kalamazoo, Battle Creek, and Portage. It is the only area code that serves the area.
What timezone does the area code 269 belong to?
The 269 Area Code is located in the EasternTimezone.
What is the main city in area code 269?
Kalamazoo, city, seat (1830) of Kalamazoo county, southwestern Michigan, U.S. It lies along the Kalamazoo River, some 50 miles (80 km) south of Grand Rapids. A fur-trading post known as Kikalamazoo—a Potawatomi name meaning "mirage," "reflecting river," or "boiling river," referring to the rapids—was already established at the site where Titus Bronson built a cabin in 1829. The settlement, first known as Bronson, was renamed in 1836. The presence of a government land office and the arrival of the Michigan Central Railroad (1846) encouraged growth. In the 1850s Dutch farmers made the locality famous for celery; later it became known for the cultivation of annual bedding plants.
Which area code is closest to 269?
219 (Hammond, IN);
260 (Fort Wayne, IN);
269 (Kalamazoo, MI);517 (Lansing, MI);
574 (South Bend, IN);
616 (Grand Rapids, MI);
The advantages of selecting a local vanity phone number
1.Local numbers make your customers feel more connected to you. Clients often prefer to deal with businesses in their own locale. An 800 number may make your business seem too impersonal or large. Customers can have the convenience of making a call to a local number as opposed to an 800 number or an unrecognizable area code.
2.More than one number. Depending on your business size and needs, you may need more than one local number. For example if you run a business out of Massachusetts that is partially in Boston and partially in Western Massachusetts, you may want both a 617 and a 508 number for your customers. If you're doing business in multiple cities across the country, having more than one local number is a good idea too to give your business a multi-city appeal.
3.Same great features! If you have a local number you would like to keep, EasyLine can easily port it. And with a local number comes all of the same great features like extensions and custom greetings.
How do I request a phone number with 269 area code?
Get US or Canada local numbers with EasyLine. We provide local and toll free numbers throughout the United States and Canada.
Buying a phone number couldn't be easier, simply search for a local phone number using our search engine to check availability. EasyLine will suit your business needs. If you want to buy a phone number that has a special or memorable sequence of numbers, toll free numbers would be more suitable.
To make your brand stand out in the crowd, choose and buy a local business phone number in following steps:
Step 1. Sign up for an account with EasyLine.
Step 2. Select your preferred state.
Step 3. Enter your preferred 3-digit area code.
Step 4. Choose the plan of your choice and make a purchase.
Step 5. And you are ready to enjoy EasyLine's services!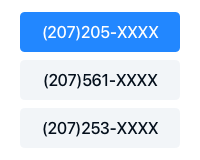 Pick a Number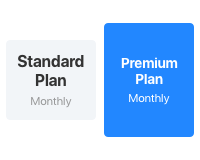 Choose a Plan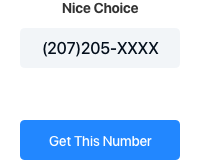 Get Started
Get a 269 area code number for your business
Not only phone calls, but also personal and small business communication solutions.
Complete List of US and Canada Area Codes
You can look up area codes by US states and Canadian provinces. Click the specific area code link to view the details.
United States Area Code List