249 Area Code
Keep it local with 249 area code.
EasyLine is the ideal option for you and your clients.

Instant setup

No Contracts

Cancel Anytime
Brief introduction of 249 area code
Receiving a call from a new area code in your mobile phone is quite alarming. Is the call associated with scammers? Where is it coming from? Who's calling? The 249 number is a unique area code established to provide service to a specific area in North America. Here are some commonly asked questions about the area code 249: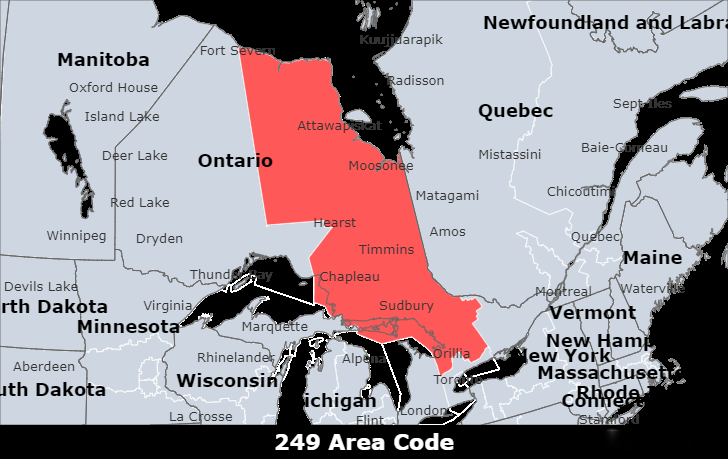 What is a 249 area code?
249 was first put in service March 19, 2011. It was created from area code 705.
Where is area code 249 located?
Area code 249 serves northeastern Ontario, Canada including Sudbury. It is an overlay for area code 705 and serves the same area.
What timezone is used for area code 249?
The 249 Area Code is located in the EasternTimezone.
What are the closest area codes to 249?
226/519/548 (London, ON);
231 (Muskegon, MI);
249/705 (Sudbury, ON);
289/365/905 (Hamilton, ON);
343/613 (Ottawa, ON);
416/437/647 (Toronto, ON);
534/715 (Eau Claire, WI);807 (Kenora, ON);
819/873 (Sherbrooke, QC);
867 (Northern Canada);
906 (Marquette, MI);
907 (Alaska);
920 (Green Bay, WI);
989 (Saginaw, MI);
Are there any scam calls from area code 249?
If you suspect that the 249 number calling you is associated with a scammer and would want to block it, here's how you can block it from your mobile device:
Are telephonic calls from 249 toll free?
Calls and text messages from area code 249 toll free are not toll free. Cost of the charges may vary on the company that provides your telecommunication services or other wireless communications services. To know more about this matter, you can or call the company's customer service team to ask about this matter.
What are the benefits of having a local phone number?
Local phone numbers give your business an authentic presence in particular target markets and make your company more accessible to individuals in local and international areas. Benefits include:
1. Creating a local presence in a particular city.
2. Tracking marketing efforts.
3. Easy access for your customers.
4. Streamlining your business.
Above all, Local phone numbers are a cost-effective business expansion tool.
Where can I request a second phone number with the area code 249?
Wherever you do business, EasyLine offers area codes in every state or provinces across the U.S and Canada. EasyLine is the industry-leading business phone system. Let EasyLine take your business to wherever your customers are located, from coast to coast. Local phone numbers give you the power to promote your products and offer the best customer service nationwide. Get a second phone number in less than 3 minutes with EasyLine!
Method 1. Sign up on EasyLine Website and get a number by instructions.
Method 2. Download EasyLine app to select a number and plan.
Method 3. Contact our sales by clicking "Talk to sales" on EasyLine website.
Method 4. Buy a second local number with the help of our customer service by clicking "LiveChat" on EasyLine website.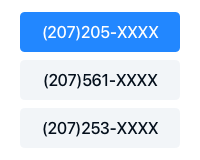 Pick a Number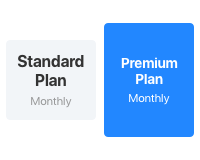 Choose a Plan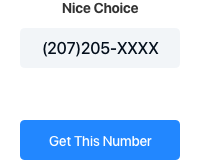 Get Started
Get a 249 area code number for your business
Getting started takes less than 5 minutes.
Complete List of US and Canada Area Codes
You can look up area codes by US states and Canadian provinces. Click the specific area code link to view the details.
United States Area Code List