240 Area Code
Select a local phone number with 240 area code.
Establish yourself as a local business.

Instant setup

No Contracts

Cancel Anytime
What is the 240 area code?
240 was first put in service June 1, 1997. It was created from area code 301.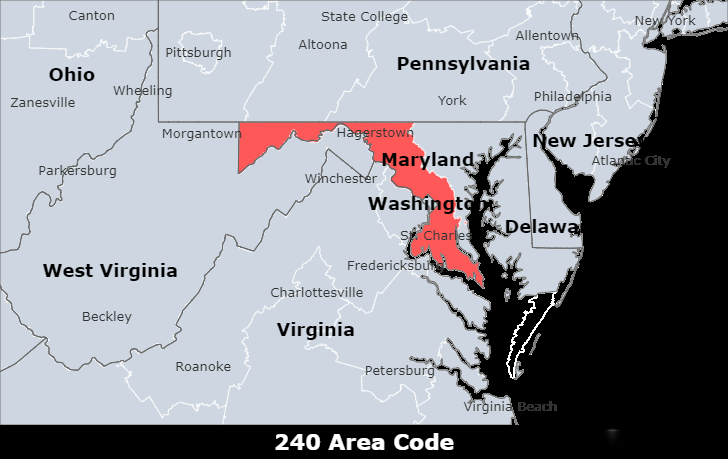 What is the location of area code 240?
Area code 240 is located in western Maryland and covers Germantown, Silver Spring, Waldorf, Frederick, and Rockville. It is an overlay for area code 301 and serves the same area.
What timezone does the area code 240 belong to?
The 240 Area Code is located in the EasternTimezone.
What is the main city in area code 240?
Germantown, historic residential section of Philadelphia, Pennsylvania, U.S., extending for more than a mile along Germantown Avenue (formerly High Street). The site was first settled by German Pietists led by Francis Daniel Pastorius in 1683, and the development of handicraft industries (weaving, tanning, and wagon building) led to prosperity. There William Rittenhouse built (1690) the first paper mill in the British colonies; Christopher Sower and his son established one of the colonies' largest printing presses (1738) and printed America's first European-language Bible (1743); and Jacob Bey, an employee of Sower, was the first colonial manufacturer of printed type. On October 4, 1777, George Washington's Continental Army unsuccessfully fought the Battle of Germantown in an effort to break the defenses of British-occupied Philadelphia.
What area codes are nearby 240?
540 (Roanoke, VA);
571/703 (Arlington, VA);
724 (New Castle, PA);
757 (Virginia Beach, VA);
804 (Richmond, VA);
814 (Erie, PA);
878 (Pittsburgh, PA);202 (District of Columbia);
223/717 (Lancaster, PA);
240/301 (Germantown, MD);
304/681 (West Virginia);
410/443/667 (Baltimore, MD);
434 (Lynchburg, VA);
484/610 (Allentown, PA);
What is the importance of choosing a local phone number?
1. Be a Local: A phone number with a local area code is more approachable and genuine to prospective customers.
2. Cut costs: EasyLine's competitive pricing will help your company save money where it matters the most.
3. Marketing-Track marketing activities and promote using local phone numbers.
4. Mask your number: When making outbound calls, your secondary phone number might show up on the caller ID, allowing you to avoid sharing personal information.
5. Maintain reachability: Use sophisticated features like business hours and clever call routing to ensure that someone always responds and you don't miss a beat.
Where can I get a local phone number with 240 area code?
Local numbers are a lot more affordable than you'd expect. You can buy local phone numbers for your business in any city or country of choice with EasyLine. EasyLine offers you lots of powerful features like unlimited calls & texts, Auto-reply to calls & texts, shortcuts & templates, custom notes, voicemail greetings, business contacts, call blacklist, group messaging, call forwarding to numbers, call forwarding to voicemail, business hours, auto-attendant, VoIP / Wifi calling, inbound caller ID, business card, tag management, business insights, number port in, texting scheduler, call recording, custom signature, voicemail to texts, etc.
Methods to get a new phone number for your business.
Method 1: Register on the EasyLine website and follow the on-screen instructions to obtain a phone number.
Method 2: Download the EasyLine app, pick a phone number, then subscribe a plan.
Method 3: Find the "Talk to Sales" option, contact our sales.
Method 4: Find the "LiveChat", talk to our customer service team.
EasyLine is the most cost-effective option for both you and your customers. To small businesses, no matter what industry you are in, EasyLine provides powerful features/solutions to meet your needs. To individuals(solopreneurs and freelancers), make it easy and affordable to look more professional and communicate like a much bigger company.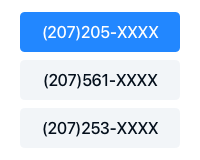 Pick a Number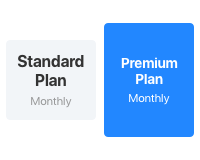 Choose a Plan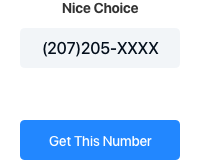 Get Started
Get a 240 area code number for your business
A local number service that stays true to brand.
Complete List of US and Canada Area Codes
You can look up area codes by US states and Canadian provinces. Click the specific area code link to view the details.
United States Area Code List