209 Area Code
Start your business with 209 area code.
We have phone numbers available all throughout the US and Canada.

Instant setup

No Contracts

Cancel Anytime
What is the 209 area code?
209 was first put in service January 1, 1958. It was created from area code 916. 209 was split in 1998 creating the need to update some of the phone numbers to area code 559.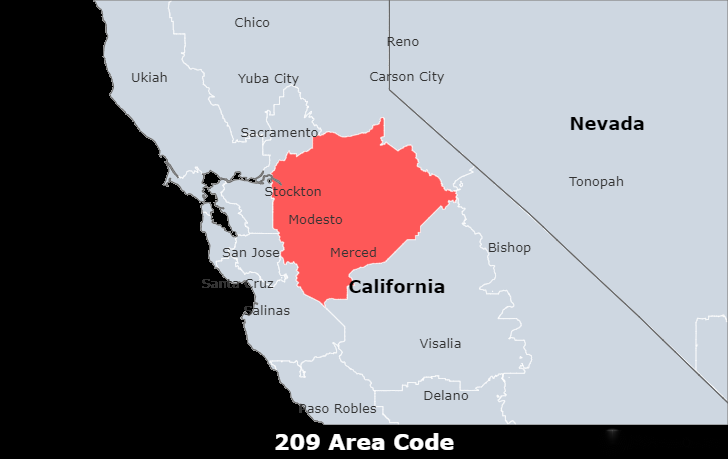 Where is area code 209 ?
Area code 209 is located in California and covers Stockton, Modesto, Tracy, Merced, and Turlock. It is the only area code that serves the area.
What timezone does the area code 209 belong to?
The 209 Area Code is located in the PacificTimezone.
What is the main city in area code 209?
Stockton, city, seat (1850) of San Joaquin county, north-central California, U.S. It lies along the San Joaquin River, 40 miles (65 km) south of Sacramento. Connected westward with San Francisco Bay by the river's 78-mile (126-km) channel, Stockton is, with Sacramento, one of the state's two inland ports. Part of Rancho del Campo de Los Franceses, a Mexican land grant (1844) to William Gulnac, it was later purchased by Captain Charles Weber, who founded the city of Tuleburg in 1849. Because it was the head of navigation on the river, the city grew rapidly as a miners' supply point during the 1849 Gold Rush. In 1850 the city was renamed to honour Commodore Robert F. Stockton, who in 1846 had claimed California for the United States; Stockton was the first incorporated city in California to bear a name that is not of Spanish or American Indian origin.
What are some of the area codes around 209?
209 (Stockton, CA);
279/916 (Sacramento, CA);
408/669 (San Jose, CA);
442/760 (Oceanside, CA);
530 (Redding, CA);559 (Fresno, CA);
775 (Reno, NV);
831 (Salinas, CA);
925 (Concord, CA);
Are 209 phone calls toll free?
No, area code 209 is not toll free. If you wish to have your own 209 number, online phone services make it so much easier for you to get your own customized number!
What does choosing a local business phone number imply?
Cost savings: Affordable business phone service created for small businesses, solopreneurs, freelancers. On average, our clients save thousands by switching to EasyLine.
Efficient and effective solutions: EasyLine gives you not only phone calls, but also other powerful features, to get you up and running much easier. EasyLine will support your business needs as you grow.
Secure and encrypted: Privacy and security are top of mind for us at EasyLine. End-to-end encryption provides the highest level of data security. EasyLine ensures that your call data is secure.
Easy of use: Manage all your business communications in one simple-to-use interface. Powerful, flexible solutions for use at a moment's notice, no matter your location.
How can I find a second phone number for business with the area code 209?
To fulfill your demands, EasyLine provides local numbers in numerous areas across the United States and Canada. You may check for particular availability in any state/province on EasyLine website, or contact our experts and we will do our best to assist you in finding the number you need. Regardless of the size of your organization, it's time to set up phone lines for your corporation or business in minutes.
1.Available-On-Demand Features. Your EasyLine business phone numbers offer you features like caller ID, personalized greetings, voicemail, and call forwarding, all of which can help you expand your reach, improve your responsiveness, and provide a better customer experience.
2.Scalability and dependability EasyLine's solution has been shown to be a reliable and high-performing solution for organizations of all sizes. EasyLine is designed to grow alongside organizations that need to add features for quickly expanding teams and locations.
3.A workplace that is adaptable. EasyLine provides the tools and functionality to support all sorts of working situations, whether you have several sites or remote workers. EasyLine allows you to work from anywhere, at any time, by employing features such as auto attendant and call forwarding.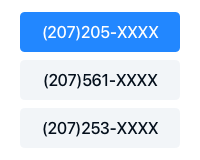 Pick a Number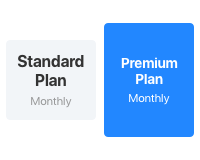 Choose a Plan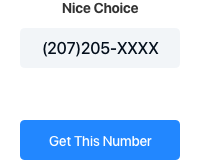 Get Started
Get a 209 area code number for your business
Easiest way to get a phone number for your startup or small business.
Complete List of US and Canada Area Codes
You can look up area codes by US states and Canadian provinces. Click the specific area code link to view the details.
United States Area Code List