203 Area Code
Here is everything you need to know about 203 area code and its applicable region.
Find out how to get a local phone number for your business with 203 code.

Instant setup

No Contracts

Cancel Anytime
What is the 203 area code?
203 is one of the original 86 area codes created by AT&T and the Bell System in 1947. It originally served the entire state of Connecticut. 203 was split in 1995 creating the need to update some of the phone numbers to area code 860. In 2009, area code 475 was created and is currently an overlay to 203.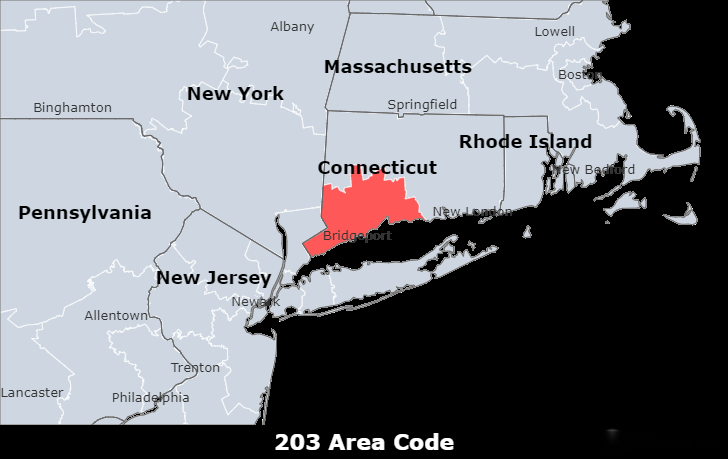 Where does area code 203 come from?
Area code 203 is located in southwestern Connecticut and covers Bridgeport, New Haven, Stamford, Waterbury, and Norwalk. It has a single overlay (475) that serves the same area.
What timezone does the area code 203 belong to?
The 203 Area Code is located in the EasternTimezone.
What is the main city in area code 203?
Bridgeport, city, coextensive with the town (township) of Bridgeport, Fairfield county, southwestern Connecticut, U.S. The city, the most populous in the state, is a port on Long Island Sound at the mouth of the Pequonnock River. Settled in 1639, it was first known as Newfield and later as Stratfield. In 1800 it was incorporated as a borough and named Bridgeport for the first drawbridge over the river.
What area codes are nearby 203?
845 (New City, NY);
860/959 (Hartford, CT);
914 (Yonkers, NY);203/475 (Bridgeport, CT);
516 (Hempstead, NY);
631/934 (Brentwood, NY);
Why do you require a memorable local vanity number for advertising?
1.Appear local, from anywhere
2.Build trust with your customer base
3.Swap a mobile number for a landline
4.Assign numbers to individuals or teams
5.Track calls and access analytics by number
6.Make your business number memorable
7.Make your phone numbers flexible, for any need
8.Forward calls with ease to the right people
Where can I get a local phone number with 203 area code?
Get a second phone number in less than 3 minutes with EasyLine! EasyLine for business is a viable alternative for small businesses, solopreneurs, and freelancers.
You can set up phone numbers for your company or business within minutes, irrespective of the size of your organization. 
1.Sign up for a free account.
2.Log in with your phone number and password.
3.Select and get your second phone number and you can put in your preferred area code (or buy a toll free number).
EasyLine is the most efficient option for both you and your customers.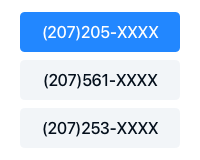 Pick a Number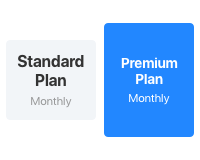 Choose a Plan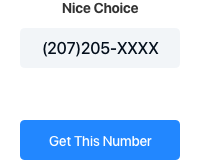 Get Started
Get a 203 area code number for your business
It's easy to get your own number right on your phone.
Complete List of US and Canada Area Codes
You can look up area codes by US states and Canadian provinces. Click the specific area code link to view the details.
United States Area Code List