201 Area Code
What does choosing a 201 business phone number imply?
A unique vanity local phone number could boost your sales and leads.

Instant setup

No Contracts

Cancel Anytime
What is area code 201?
201 is one of the original 86 area codes created by AT&T and the Bell System in 1947. It originally served the entire state of New Jersey. 201 was split in 1997 creating the need to update some of the phone numbers to area code 973. In 2001, area code 551 was created and is currently an overlay to 201.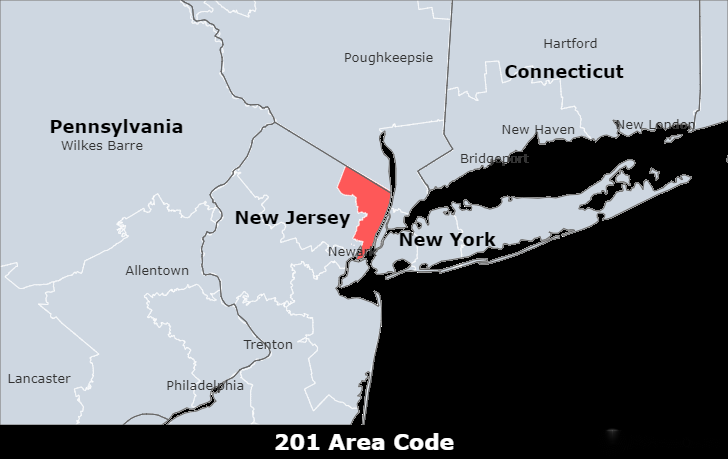 Where is area code 201 ?
Area code 201 is located in northeastern New Jersey and covers Jersey City, Union City, Bayonne, and Hoboken. It has a single overlay (551) that serves the same area.
What is the timezone of area code 201?
The 201 Area Code is located in the EasternTimezone.
What is the major city in area code 201?
Jersey City, city, seat (1840) of Hudson county, northeastern New Jersey, U.S. It is situated on a peninsula between the Hudson and Hackensack rivers, opposite Manhattan Island, New York City, with which it is connected by the Holland Tunnel and the Port Authority Trans-Hudson rapid transit system. Its site, originally inhabited by the Delaware Indians, was first visited by Henry Hudson in 1609. It was settled by Dutch trappers in 1618 and became known as Paulus Hook (renamed Jersey City in 1820). Michael Pauw purchased it from the Delaware about 1630, and by 1660 a permanent settlement had been established. In 1664 the British seized it briefly, returned it to the Dutch, and then regained it in 1674 as part of the spoils in the Dutch War.
What are the area codes near 201?
862/973 (Newark, NJ);
908 (Elizabeth, NJ);
914 (Yonkers, NY);
917 (New York, NY);201/551 (Jersey City, NJ);
212/332/646 (New York, NY);
347/718/929 (New York, NY);
845 (New City, NY);
Is area code 201 a scam?
If you receive a call with the area code 201 at the beginning, you might be inclined to believe that this number is coming from the New Jersey area, right? Wrong. Recent technologies have made it more convenient for us to customize our own phone numbers but with the good comes the bad and this kind of convenience has been used by some scammers to scam their unsuspecting victims.
Why do you need a memorable vanity local number for branding?
1.In-Demand Features. From caller ID, custom greetings, and voicemail to call forwarding, your EasyLine business phone number can get you features that allow you to increase your reach, speed responsiveness, and deliver an enhanced customer experience.
2.Reliability and Scalability. EasyLine's solution has proven to go the distance in terms of always-up reliability and top-rated performance for businesses of all sizes. EasyLine has been built to scale with businesses that need to add functionality for rapidly growing teams and additional locations.
3.Flexible Work Environment. Whether you have multiple locations or scattered remote workers, EasyLine has the tools and features that accommodate all types of working environments. By using auto attendant, call forwarding, etc. EasyLine helps you work from anywhere, anytime.
What's the best way to acquire a 201 phone number?
EasyLine provides a variety of phone numbers for customers in different places. At EasyLine, you may choose an exceptional local number in any city or area code in North America and begin using it immediately. Start building trust and loyalty with a local phone number from EasyLine.
Method 1. Sign up on EasyLine Website and get a number by instructions.
Method 2. Download EasyLine app to select a number and plan.
Method 3. Contact our sales by clicking "Talk to sales" on EasyLine website.
Method 4. Buy a second local number with the help of our customer service by clicking "LiveChat" on EasyLine website.
Plus: EasyLine provides VoIP(Voice over Internet Protocol)/WiFi-Calling and Cellular Call service to help you start your business. You could switch your call mode by your needs. If you're someone who spends a lot of time talking on the phone for work, you need EasyLine in your life.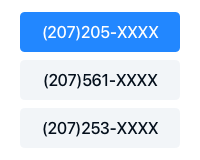 Pick a Number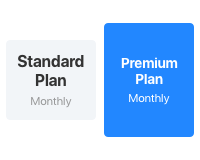 Choose a Plan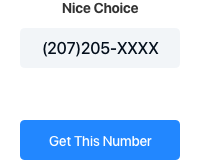 Get Started
Get a 201 area code number for your business
EasyLine lets you make free local calls within the U.S. and Canada to any phone number.
Complete List of US and Canada Area Codes
You can look up area codes by US states and Canadian provinces. Click the specific area code link to view the details.
United States Area Code List