How does HD Calling Work (Carrier Calls)
As a professional business application combining business calling, texting, management and features, EasyLine has been widely used by millions of freelancers or small business teams. Among all the features provided by EasyLine, calling is the root feature. EasyLine provides best-in-class calling quality for all users around the world just because of the HD calling technology.
What Exactly is HD Calling?
HD calling refers to cellular call services with high definition. It relies on cellular signal strength which ensures all the incoming and outgoing calls are achieved with high quality. That marks a main difference between EasyLine and other similar calling apps. After all, EasyLine is created for business only and any trivial fuzziness is and should never be allowed in all business communications.
How does EasyLine Calling Work?
Apart from HD calling, Easyline also provides VolP calling that refers to the feature of calling based on the Voice Over Internet Protocol technology. Simply put, VOIP calling allows calls to be made whenever there's access to the Internet on the device.
Applications based on Internet or cellular channels are often blamed for low call stability, but EasyLine with two kinds of calling services ensures that callings work in a smooth way. VoIP calls on EasyLine are preferred to be used in smooth Internet environment, and HD calls on EasyLine processed through the carrier signal reception means superior sound quality, so you don't have to worry about being troubled by instable situations when important business calls are made locally or internationally.
How to Make HD Calls on EasyLine?
If you are in an instable Internet environment, please disenable the VolP calls on the Call Settings interface, then all the calls will enter and go out by HD calls by default.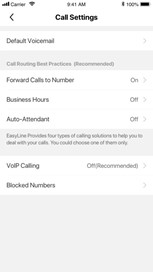 HD Calls are Seriously Recommended for Business Communications when Sales Growth is Targeted.
With VolP callings you may be troubled by the low calling quality due to instable Internet. To avoid the situation of missing or being disrupted by defective quality callings, HD callings are recommended. HD calling can ensure you have a smooth and satisfactory calling experience, which is the fundamental element for increasing sales growth and customers.
Top Quality Calling Brings Top Orders.
All calls on EasyLine are based on providers' service to ensure 100% high quality calling of the time. This is the number one advantage over other applications that are solely based on the internet or cellular with low stability.