What is Call Forwarding?
The call forwarding feature is usually adopted when a business is supported by a team with members carrying clear roles. EasyLine enables business owners or staff to forward calls to their partners directly. The business contact tree can be enlarged with new extensions added or deleted at will.
Why is Call Forwarding So Important for Business?
The feature of call forwarding is needed when the following situations are met:
a) When you are busy in an important meeting and fail to answer a call from a customer while your assistant could help with your calls.
b) When you need other specific numbers to answer incoming calls from EasyLine.
c) When you simply don't want any phone disruptions on your specific line.
With the feature of EasyLine, you can easily manage the business calls without having your clients any more latency time for giving and calling another number.
How do I Forward My Calls to Another Number on EasyLine?
If you want to forward your calls to another number, all you need is a simple tweak to make sure your call can get through. Here's a simple guide on how to do it in just four steps:
Step 1. Enter EasyLine > Setting > Call Setting.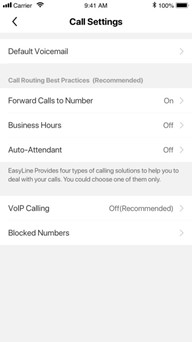 Step 2. Press Forward Calls to Number, then tap "Add New Extensions" to add the numbers you want to forward the calls to.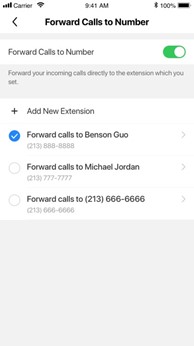 Step 3. Turn on Forward Calls to Number and choose the number to forward.
Step 4. You're all set now!
Bonus:
You can delete extension numbers by tapping the number and choosing Delete.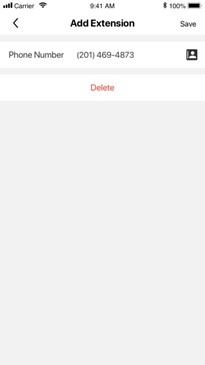 Best Practices of Call Forwarding
During a meeting
When you are in an important meeting, with a VIP customer for example, and don't want to be and should never be disrupted by any call from anyone, set up the call forwarding feature on EasyLine, and forward the calls to your assistant that is available then. By this means will you be able to reconcile the meeting and your potential clients.
After-work time
Separating your work and life is one of the best functions of EasyLine call forwarding. Turn on the feature Forward Calls to Number after work, and the calls will be redirected to the colleagues who carry on your duty. In this way, you will not miss both the clients' demands and your personal life.